The picturesque alpine village of Wengen is a popular holiday destination year round. Located on a sunny terrace above the Lauterbrunnen Valley, this car-free village makes an ideal base for exploring the stunning Jungfrau Region.
Whether you are visiting in winter for the excellent skiing and snowboarding opportunities or during the warmer months for hiking and enjoying the breathtaking views, there is a Wengen hotel to suit.
Wengen offers a good range of hotels – some directly beside the ski slopes, others with spa and wellness centres, and many with panoramic alpine vistas from the bedrooms. When it comes to choosing your hotel accommodation, Wengen offers something for every budget.
In this guide, we cover ten of the most popular lodging choices to help you find the perfect hotel in Wengen, Switzerland for your stay.
[This post may contain compensated links. Please see my disclosure policy for more information.]
Hotels in Wengen covered in this guide
Hotel Sunstar Wengen is a traditional Swiss-style property in an elevated position, offering guests a relaxed atmosphere, comfortable rooms and family-friendly service. It is part of the popular Swiss hotel group, Sunstar.
---
Location: Central Wengen opposite Mannlichen cable car
Rooms:
Sunstar Hotel Wengen has 76 rooms, comprising a range of singles, doubles, suites and family rooms. Accommodation is decorated and furnished with an emphasis on natural wood, while every home comfort is provided.
Suites, family rooms and standard valley rooms are more spacious and each has its own private balcony.
Amenities:
Within the hotel a varied breakfast buffet is served daily, and there is a lounge bar with cosy fireplace for those apres-ski evenings. Outside, there is a fondue gondola, grill and trampoline, while the restaurant inside serves up sumptuous multi-course feasts baked on locally sourced ingredients.
Twice weekly, themed dinners are hosted by the chef and there is a lounge bar with a cosy fireplace.
The hotel provides complimentary WiFi across the entire property and an internet area for guests' use. Use of the indoor pool, steam bath and sauna is also included.
This hotel in Wengen, Switzerland is located in the car-free centre of the village and opposite the Mannlichen cable car station.
The Sunstar Hotel Wengen also has a steam bath and a sun bed. During the warmer months, guests can relax in the garden, which also has a trampoline.
> Click here to check current prices
---
Beausite Hotel Wengen is nestled at the foothills of the Jungfrau, Eiger and Monch mountains within this car-free Swiss village, and offers fabulous facilities including fine dining and a luxurious spa.
---
Location: Central Wengen by cable car lower terminus
Rooms:
There is a selection of spacious, light-filled rooms at Park Hotel Beausite Wengen, including suites, an apartment and family suites.
Amenities:
Guests at Beausite Park Hotel Wengen can enjoy a hearty buffet breakfast daily as well as fine dining in the restaurant for lunch and dinner.
There is free WiFi throughout, as well as a fitness and relaxation zone, indoor pool, jacuzzi steam bath, sauna and Himalayan-style tepidarium.
Outside is an ecological swimming pond for summer use, while for children there is an indoor playroom and a playground outside.
Hotel Beausite Wengen is ideally situated for accessing the area's ski slopes, including Grindelwald and the Kleine Scheidegg. The hotel offers a transfer service from the train station.
> Click here to check current prices
---
The delightful Hotel Caprice Wengen is a fully renovated chalet-style property in a convenient, scenic spot. It features a stylish, contemporary interior.
---
Location: Close to the train station
Rooms:
There are a range of room styles at Hotel Caprice for guests to choose from for their accommodation in Wengen, including budget, small or superior rooms as well as triples and suites.
All rooms have recently been redecorated in a natural style with lots of wood and huge windows as well as en-suite bathroom, cable TV and DVD, hairdryer and mini-bar.
Most rooms have balconies with valley and mountain views.
Amenities:
The cuisine at the Caprice restaurant is Mediterranean-inspired, using fresh seasonal ingredients from the local region. Menus change daily, and each dish is freshly prepared.
The restaurant boasts mountain views and there is also a lounge with a fireplace, an apres-ski bar, and an outdoor sun terrace.
This charming hotel in Wengen village is just a two-minute walk from the station and enjoys uninterrupted views of the Jungfrau and Lauterbrunnen valley.
There is quick, easy access to both the ski slopes and the local hiking area, and the cable car is just 200 meters away.
Within the hotel guests can relax in the sauna, whirlpool bath and gym, or book an indulgent massage.
> Click here to check current prices
---
Hotel Silberhorn Wengen is a four-star property in the car-free village center, surrounded by the Bernese Oberland mountains within the Jungfrau region.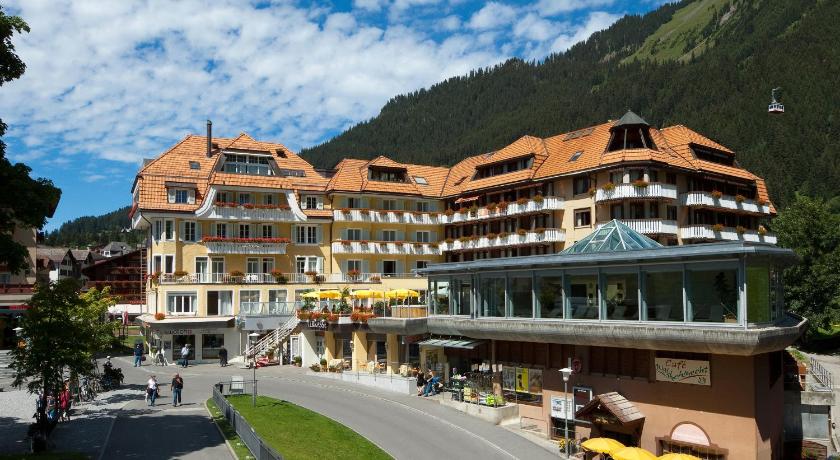 ---
Location: Close to train station
Rooms:
All rooms at Hotel Silberhorn Wengen have seating areas affording guests magnificent mountain views. A range of room types can sleep from one to four people, and there are also family apartments.
Amenities:
This Wengen hotel makes the perfect base, with the train station only a minute's walk away. During winter there is direct access from the ski slope to the hotel.
Within the hotel you'll find a fitness area, Spa and wellness centre, and a Swiss ski school, as well as a restaurant and a couple of shops. Residents can enjoy outdoor and indoor whirlpools, a steam bath, Finnish and organic herbal saunas and Kneipp pool.
In the Silberhorn-Stube restaurant, the menu features traditional Swiss dishes such as fondue or raclette, as well as fresh salads and pasta specials. A half-board basis can be arranged upon arrival if required. There is also a bar for apres-ski drinks.
> Click here to check current prices
---
The traditional style Wengenerhof dates from 1998 and provides a range of accommodation in Wengen, situated within extensive, scenic grounds.
---
Location: 450 metres from train station
Rooms:
Whatever kind of room you'd like, the Wengenerhof can accommodate you with single, double, triple and quadruple rooms, as well as family rooms and suites available. Many visitors return to this hotel time after time.
Amenities:
The gardens at this hotel are a particular feature, offering sweeping views over the mighty Jungfrau and the Lauterbrunnen Valley. The hotel is also renowned for the high level of hospitality and personal service, and the location is quiet yet ideal, within five minutes' walk of the train station.
Guests can enjoy free WiFi, a Finnish sauna, bucket and rainforest showers, a drinking fountain with local spring water, and a regeneration area that plays relaxing music while you savor the stunning vistas.
The restaurant serves breakfast and elegant meals for dinner, alongside fine Bordeaux wines. Afterward, residents can retire to the bar and lounge with a fireplace. Each Sunday evening, five-course gala dinners are served.
> Click here to check current prices
---
Hotel Schönegg Wengen occupies one of the oldest buildings in this Swiss mountain village, directly opposite the Jungfrau Massif.
---
Location: Close to cable car station
Rooms:
Hotel Schoenegg in Wengen was fully renovated in 2012, with the aim of combining modern comforts with alpine charm. Most of the 20 rooms are south facing with balconies, offering breathtaking views of the Jungfrau.
There are singles, doubles, family rooms, and junior suites, all of which have en-suite facilities, TV, radio, and hairdryer, as well as free WiFi.
Amenities:
The hotel serves breakfast daily, and in the afternoons coffee and cake can be taken on the terrace. Restaurant 1903 serves up an array of culinary delights each evening, using only locally sourced and seasonally ingredients.
Hotel Schoenegg Wengen also offers an honesty bar within the cozy lounge, while hot and cold soft drinks are supplied free of charge.
Hotel Schönegg is a superbly situated three-star superior hotel in central Wengen, with wood or stone panelled walls and wood floors throughout as well as solid wooden furniture.
The closest ski lift is just 150 metres away, with the train station 300 metres away.
> Click here to check current prices
---
---
Hotel Victoria Lauberhorn Wengen dates from 1897 and is located right by the train station and cable car. Facilities include a swimming pool and a deluxe spa – in fact it's one of the few hotels in Wengen with a swimming pool.

Location: Central Wengen, close to train station
Rooms:
Guests can choose from single, double, triple or family rooms at Arena Hotel Lauberhorn Wengen, some of which have attached balconies.
All rooms include free WIFI access, TV, radio and telephone, safe, hairdryer and coffee machine.
Amenities:
Hotel Victoria Wengen has its own wellness center, the Alpine Spa, featuring a pool, sauna, steam bath, fitness room, massage showers, relaxation room, and sun terrace.
Restaurant Pasta and More offers à la carte dining including grills and Swiss specialties for lunch and dinner, while Lobhörner restaurant serves breakfast and dinner. The latter comprises a four-course meal of your choice.
Various sporting and leisure pursuits can be reached on foot from Arenas Resort and Hotel Lauberhorn Wengen including curling, tennis, mini-golf, and skating.
If you're looking for a 3-star hotel in Wengen near the train station, this is a great choice.
> Click here to check current prices
---
Hotel Baren Wengen offers Alpine-style, modern accommodation that has been designed to seem as if the mountains are right there within the room with you.
---
Location: Central Wengen, 350 metres from train station
Rooms:
Light-filled, comfortable rooms at Baren Wengen offer great views of the natural environment. Some have balconies, and they can sleep up to four people or families. There is also a two-bedroom chalet.
All rooms are equipped with an en-suite shower room, flatscreen TV, free WiFi, hairdryer, and safe with coffee, tea, and fresh mountain spring water.
Amenities:
The restaurant at Hotel Baeren Wengen is open daily for breakfast and dinner, serving freshly prepared seasonal dishes, which can be enjoyed on the terrace during summer.
Other hotel facilities include a children's playroom and outdoor playground, reserved ski storage at the cable car station, ping pong table, and tablet devices for guests' use.
Hotel Bären is situated just 350 metres from the train station, and you can walk to the cable car in just five minutes.
> Click here to check current prices
---
A family-run property since 1881, Hotel Alpenrose, Wengen offers alpine-style accommodation in a quiet and picturesque location.
---
Location: 450 metres from train station
Rooms:
Hotel Alpenrose Wengen has 40 guest rooms, recently decorated in traditional Alpine chalet style, including antique Swiss furnishings. There are singles, twins and doubles, as well as apartments that can accommodate up to four people.
In-room facilities include TV and radio, free WiFi and hairdryer.
Amenities:
Alpenrose Hotel Wengen is ideally positioned in the Jungfrau Region and affords residents stunning views over the Lauterbrunnen valley, tumbling waterfalls, and snow-capped mountains.
After a day's activity, the lounge with log fire invites guests to relax after dinner each evening.
Outside there is a delightful garden which provides an oasis of calm during fine weather. The hotel makes the perfect starting point for excursions in the Wengen-Jungfrau Region.
> Click here to check current prices
---
Hotel Alpenruhe Wengen offers all en-suite accommodation, and every room has a private balcony to afford visitors panoramic views over the surrounding valley and mountains.
---
Location: 600 metres from train station
Rooms:
All 24 rooms at the Alpenruhe hotel in Wengen have cable TV, en-suite bathroom, and attached balcony, and each has either a forest or mountain view. Other comforts include high-quality linens and ample storage space.
Amenities:
The village center, train station, and Männlichen Cable Car are all within ten minutes' walk, and ski boots can be stored on a complimentary basis at the sports shop by the cable car.
Luggage storage, station pick-up and transfer is also available free of charge.
A breakfast buffet is served each morning, and by afternoon drinks can be taken on the terrace. Please note there is no restaurant for lunch and dinner.
> Click here to check current prices
---
Useful things to know about Wengen
Wengen is located on a terrace above Lauterbrunnen in the Jungfrau Region at 1,274 metres above sea level.
The town has a permanent population of around 1,000 residents and 5,500 guest beds.
Wengen's Tourist Office, Coop supermarket, banks and most shops can be found close to the train station which is in the heart of the village.
The Lauberhorn World Cup Ski race is held in Wengen every January. The event attracts a world-class field of downhill and slalom skiers.
---
Map of hotels in Wengen, Switzerland
Click on the map to open it.

Wengen Visitor's Tax
All visitors to Switzerland are required to pay a Visitor Tax (Swiss Tourist Tax) for each night they stay in the country. Visitor tax rates in Wengen are CHF 3.30 per night for adults and CHF 1.80 per night for children aged between 6 and 16 years.
In most cases, the visitor's tax is not included in the hotel rate and is payable directly to the hotel on check out.
---
Wengen Guest Card
Payment of the Wengen Visitor's Tax entitles guests to a local guest card which offers reductions for some activities in Wengen. Reductions include (but are not limited to) half price entry to the Ice rink and a 30% discount off the regular price of the Wengen – Mannlichen cableway.
If you plan on spending a few days in the region, it is worth considering purchasing a Jungfrau Travel Pass or Regional Pass Berner Oberland as these cover public transport and many mountain railways and cable cars in the area.
---
---
Best things to do in Wengen
Wengen is an excellent base for hiking in summer and skiing in winter and for exploring the whole Jungfrau Region.
Popular mountain excursions from Wengen include the Jungfraujoch and Mannlichen, but there are many more mountains that can be easily reached by train, cable car and funicular. This article has more suggestions.
Be sure to allow time in your itinerary to enjoy the stunning views from Wengen. It is ideally located at the foot of the Jungfrau and on a sunny plateau above the Lauterbrunnen Valley.
---
How to get to Wengen
Wengen is a car-free village situated above Lauterbrunnen and can only be reached by train.
Trains depart from Interlaken Ost and travel via Lauterbrunnen to Wengen (and return) every 30 minutes. Journey time from Interlaken is 44 minutes and from Lauterbrunnen is just 12 minutes.
If you have a Swiss Travel Pass, Jungfrau Travel Pass or Regional Pass Berner Oberland, travel between Interlaken and Wengen is free.
Visitors arriving by car can park their vehicle at the multi-storey car park next to Lauterbrunnen station. Rates start from CHF 17 per day / CHF 88 per week.
---
Final Thoughts
As you can see, there are a wide range of Wengen hotels to choose from. In this article I've covered ten of the properties that are regularly rated amongst the best hotels in Wengen.
I hope I've helped you to find the perfect hotel for your Wengen stay.
To read our full guide to Interlaken and the Jungfrau Region, > click here.
---
PIN FOR LATER
---
Switzerland Travel Essentials