The beautiful alpine village of Mürren is a popular place to base yourself when you visit the Jungfrau region.
This car-free village sits on a sunny plateau above the Lauterbrunnen Valley and offers stunning vistas of the Eiger, Jungfrau and Monch.
Although it is only small, with a permanent population of around 400, there are plenty of hotels in Murren to choose from.
In this guide, you'll learn more about the Murren hotel options available to help you choose where to stay.
[This post may contain compensated links. Please see my disclosure policy for more information.]
---
Summary of hotels in Mürren
Hotel Blumenthal Murren is a delightful three-star property in a convenient location, within its own idyllic grounds.
Location: Village centre
Rooms:
This traditional Murren hotel has 16 newly renovated rooms, all of which are fully equipped with an en-suite shower or bath and WC as well as a hairdryer, TV/radio, complimentary WiFi and room safe.
Each room also boasts a comfortable sitting area, and some also have an attached balcony, affording panoramic views over the surrounding scenery.
Amenities:
Blumental Hotel Murren makes the perfect starting point for excursions to the Schilthorn and for hiking in the area.
During the winter, hotel guests can use the village's public ice rink and sports centre free of charge. The latter features a swimming pool and hot tub. 
Gorgeous gardens are adjacent to the hotel and provide the ideal spot in which to relax.
The elegant yet rustic restaurant serves both national dishes and daily specials, alongside carefully selected wines from the hotel's own cellar.
Guests may enjoy the experience of sharing a fondue, or opt to try Swiss dishes from the à-la-carte menu. 
> Click here to check current prices and book
---
A three-star property, Hotel Alpenruh Murren offers direct ski access and storage as well as comfortable accommodation for those seeking a convenient base for their stay in Murren.
Location: Next to Schilthorn cable car station
Rooms:
All rooms at Hotel Alpenruh come fully equipped with a range of amenities including cable TV, complimentary WIFI and direct dial telephone plus private, en-suite shower and WC.
The accommodation has elevator access and there is a safe deposit box at reception.
Amenities:
Hotel Alpenruh Murren boasts some superb guest benefits, including ski-in and ski-out access as well as ski storage. There is an on-site restaurant, bar and lounge, a sauna and spa services.
Tea and coffee is provided in shared areas and Hotel Alpenruh Murren has multilingual staff.
The location of this property is unbeatable, being within just a minute's walk of the Schilthornbahn Cable Car. The Allmendhubel funicular can be reached via a three minute walk.
> Click here to check current prices and book
---
The cosy, traditionally styled Hotel Bellevue Murren affords guests exceptional Swiss-style accommodation, magnificent views and a range of facilities.
Location: Village centre
Rooms:
All 23 guest rooms at this hotel in Murren benefit from free WIFI, are non-smoking, and offer residents comfortable chalet-style accommodation.
Those with private balconies can enjoy superb views of the Eiger, Jungfrau and Mönch mountains.  
Amenities:
The Alpine-style restaurant serves perfectly-executed Swiss specialities, accompanied by specially selected wines.
Hotel facilities include a sauna, self-service laundry, airport shuttle, and luggage storage. Pets are also permitted within Hotel Bellevue Mürren.
> Click here to check current prices and book
---
Hotel Eiger Murren is a 49 room property with views over the towering Eiger mountain and surrounding Swiss Alps.
It is the only 4 star hotel in Murren and has an on-site spa, a fine dining restaurant, and is directly across the street from the train station.

Location: Near Murren train station
Rooms:
There are a variety of non-smoking rooms with WiFi at Hotel Eiger. These range from a double room or family suite with forest view to a single, double or one-bedroom suite with Eiger mountain views.
Amenities
There is free WIFI access throughout the hotel, and the restaurant at Hotel Eiger serves fine Swiss dishes alongside international cuisine.
A contemporary spa area with magnificent mountain views features a sauna and hot tub, plus an indoor swimming pool.
For guests' convenience, an elevator and on-site ski storage are offered by Eiger Hotel Murren, and there are multilingual staff for ease of communication.
Dogs are permitted to stay, and there is a convivial bar for aprés-ski drinks.
> Click here to check current prices and book
---
Edelweiss Hotel Murren is situated within a strikingly modern, flat-roofed building housing 24 individual rooms that are furnished in a functional, contemporary style.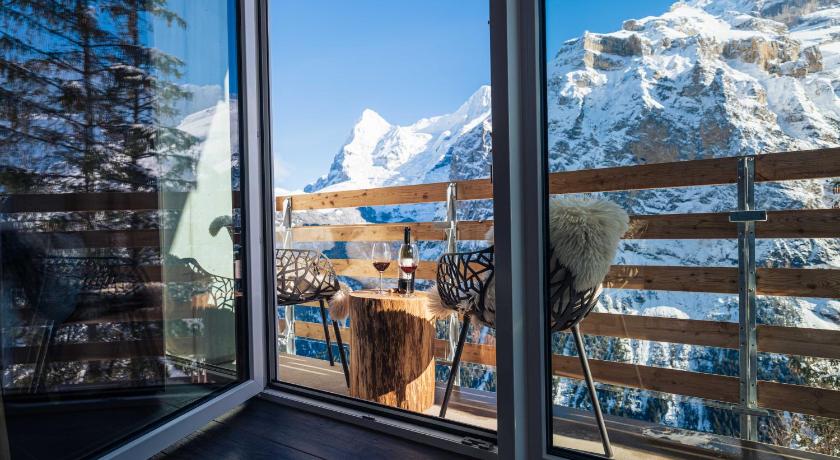 Location: Between train station and village centre
Rooms:
Most rooms at Hotel Edelweiss Murren offer stupendous clear views of the surrounding alpine scenery, including the Eiger, Mönch and Jungfrau mountains.
Room types include double rooms, four modern superior rooms and two spacious junior suites.
Every room has an en-suite with shower or bath, hairdryer, cable TV, free WiFi and safe. Many also have private balconies.
Amenities:
Guests staying at Hotel Edelweiss Mürren can enjoy restaurants and a lounge bar, as well as a sauna, spa, library, computer area and business centre.
Coffee and tea are served in the communal areas, and outside is a lovely, relaxing garden. There is also an elevator and a safe at the front desk. 
> Click here to check current prices and book
---
Hotel Alpina Murren has 26 guest rooms and enjoys a stunning location with views over the surrounding mountains and valley.

Location: Between train station and village centre
Rooms
The majority of rooms at Hotel Alpina offer spectacular views over the Mönch, Eiger and Jungfrau mountains as well as the Lauterbrunnen valley.
All rooms are non-smoking and en-suite, and feature cable TV and radio, bath or shower and WC, hairdryer, minibar and balcony. All rooms have free WiFi.
There is a good selection of accommodation comprising singles and doubles and even four family apartments.
Amenities
In the hotel restaurant, guests can savour delightful dishes on the terrace from the à la carte menu, while enjoying the spectacular mountain scenery.
After dinner, retire to the cosy lounge with newspapers, cable TV, a small library and a range of games.
Guests staying at Murren Hotel Alpina benefit from complimentary access to the ice skating rink and indoor swimming pool at the Mürren sports centre, just 200 metres away.
> Click here to check current prices and book
---
Another establishment in Murren, Hotel Regina is a 52-room property with individually styled rooms and impressive public areas including a majestic dining room with terrace and a pretty winter garden.

Location: Village centre
Rooms:
Hotel Regina Murren offers a range of room types, from economy singles and doubles with shared bathrooms to panoramic double or triple rooms with shared bathroom and mountain views from the balcony.
There are also family rooms with balcony and mountain views, or en-suite doubles with village views.
Amenities:
Guests at Regina Hotel Mürren can enjoy a daily breakfast if they wish, and dinner is also available in the restaurant, including tempting vegetarian options.
Other hotel facilities include an elevator, free WiFi in the lobby, a front desk safe, ski in and out access, a lounge bar, a library, and a meeting room.
There are multilingual staff, too.
> Click here to check current prices and book
---
Hotel Jungfrau Murren offers a range of comfortable accommodation in a central location. 
Situated next to the ski school and just a few steps from the Allmendhubel funicular, this family run hotel is the ideal base for a stay at any time of year.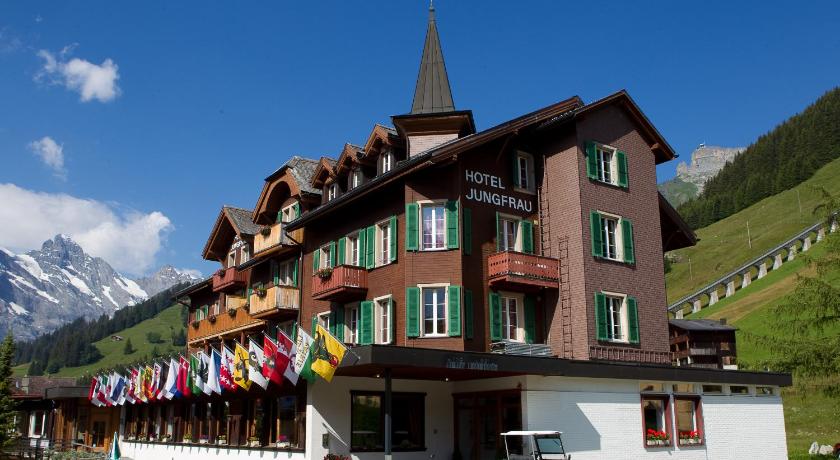 Location: Village centre, close to Allmendhubel funicular
Rooms:
Guests can choose from a range of different rooms and apartments at Hotel Jungfrau. All rooms include private bathrooms with hairdryer, direct dial telephones, TV and radio. 
Some rooms can accommodate up to three guests, and superior rooms (some with balcony) offer breathtaking views of the Eiger, Jungfrau and Monch.
Amenities:
Free WiFi is available in the lobby, or for a small fee elsewhere in the hotel. Guests can make use of a public swimming pool, jacuzzi and ice rink nearby.
The hotel has a bar and restaurant, with a sunny terrace, serving Swiss and international cuisine. There's also a lounge with fireplace and a library.
> Click here to check current prices and book
---
---
Useful things to know about Mürren
To help you decide the perfect location for your stay in Murren, below you'll find some handy info to know about the town's layout.
As the village is located on a plateau above the Lauterbrunnen Valley (1,650 metres above sea level), the town's layout is long and narrow.
It is around 900 metres from the Murren train station to Murren's Schilthorn cable car station.  You should allow around 20 minutes to walk from one to the other.
The Coop Supermarket is located closer to the cable car station than the train station.
As you walk along the main road between the two stations you can appreciate the wonderful views of the Bernese Alps and the valley below.
---
Map of hotels in Mürren
Click on the map below to open it.
---
Mürren Visitor's Tax
Visitors to Switzerland are charged a Visitor Tax (Swiss Tourist Tax) for each night they stay in the country. Hotel rates already include the visitor's tax.
---
Mürren Guest Card
Payment of the Visitor's Tax entitles you to a Murren GoldenCard which offers free entry to the indoor swimming pool, and discounts at some local businesses including 10% off ski hire at some ski shops.
If you plan on spending a few days in the region, it is worth considering purchasing a Jungfrau Travel Pass or Berner Oberland Pass as these cover public transport and many mountain railways and cable cars in the area.
Best things to do in Mürren
Murren is the ideal base for enjoying the stunning natural surrounds. As well as hiking in summer and skiing in winter, one of the main reasons travellers come to Murren is to visit Birg and the Schilthorn.
Another enjoyable excursion is to Allmendhubel where there is a flower trail and children's playground.
There are also an endless list of excursions and attractions in Interlaken and the rest of the Jungfrau Region.
---
How to get to Mürren
Murren is a car-free village and can only be reached by public transport. There are two ways to get to Murren from Lauterbrunnen.
The first option is to take a cable car from Lauterbrunnen (cable car station opposite the train station) to Grutschalp. Here, you board a train for Murren.
Total journey time from Lauterbrunnen is 20 minutes.
The second option is to travel by cable car from Stechelberg, a couple of kilometres past Lauterbrunnen. If you don't have your own car, regular PostBus services operate between Lauterbrunnen train station and Stechelberg.
From Stechelberg, the Schilthorn cableway has half-hourly services to Murren (via Gimmelwald).
Total journey time from Stechelberg to Murren is 32 minutes.
> Click here to purchase your cable car tickets
If you are travelling to Lauterbrunnen by train, there are services every 30 minutes from Interlaken Ost station, with a journey time of 20 minutes.
If you have a Swiss Travel Pass, Jungfrau Travel Pass or Regional Pass Berner Oberland, travel between Interlaken and Lauterbrunnen is free.


For those who are driving in Switzerland, there is a large multi-deck car park in Lauterbrunnen next to the train station and a car park in Stechelberg at the cable car station. Charges apply for both.
---
Final Thoughts
I hope this guide to the hotels in Murren has helped you to choose the perfect place to stay when you visit this charming alpine village.
To read our full guide to Interlaken and the Jungfrau Region, > click here.
---
PIN FOR LATER
Top image courtesy of Peter Whitten
Switzerland Travel Essentials