Perfectly located in the stunning Berner Oberland, the village of Kandersteg is the ideal destination for those who enjoy the great outdoors.
Close to two of Switzerland's most spectacular lakes – Lake Oeschinen (Oeschinensee) and Blue Lake (Blausee) – Kandersteg is also a popular winter ski resort and haven for hikers during the warmer months.
Whilst many travellers visit Kandersteg on a day trip from Interlaken or Bern, it is worth staying a night or two to really soak up the natural beauty of the surrounding area.
In this guide, you'll find plenty of options for accommodation in Kandersteg with a good selection of hotels and apartments to choose from.
[This post may contain compensated links. Please see my disclosure policy for more information.]
Hotels in Kandersteg covered in this guide
The family-owned and run Waldhotel Doldenhorn is the only four star hotel in Kandersteg. Offering a high standard of accommodation and facilities along with a friendly welcome, the hotel is a great choice for your stay in Kandersteg.

Location: Doldenhornstrasse, central Kandersteg
Rooms:
This hotel in Kandersteg has a range of comfortable accommodation. Choose between a selection of rooms, or opt for a more spacious suite.
All four star accommodation is fully equipped and features attractive, relaxing decor and furnishings. Quiet rooms overlook the surrounding mountains or forest.
Amenities:
Waldhotel Doldenhorn Kandersteg is ideally situated for winter sports fans, as you can ski door-to-door. The food, as well as the location, are highly regarded by guests, and there are two restaurants on site. '
Au Gourmet' is a fine dining establishment offering local specialities, inventive dishes and an extensive wine list, while the bistro has a more casual ambience.
This Kandersteg hotel also has a spa and superb wellness facilities, and even its own supply of fresh mountain spring water. Other amenities include an indoor swimming pool, saunas, a hot tub, massage services and a relaxation room.
> Click here to check current prices
---
---
Situated in the heart of Kandersteg, and offering panoramic mountain views, Hotel Bernerhof offers comfortable accommodation and wellness facilities.

Location: Aussere Dorfstrasse, Kandersteg centre
Rooms:
The Bernerhof Swiss Quality Hotel in central Kandersteg has a range of en-suite rooms, all with private balcony. Many offer splendid views over Bluemlisalp.
All rooms have a bath or shower room, free WiFI, TV and radio. Some superior rooms and suites also have a seating area with armchairs or a sofa. Families and pets can be accommodated here too.
Amenities:
This hotel in Kandersteg offers sweeping mountain vistas, a restaurant and bar and a cosy spa area. The latter features an ice grotto, multi-sensory showers, sauna and infra-red cabin.
In addition to the restaurant, Bernerhof Hotel Kandersteg has its own log cabin, where guests can sample an authentic Swiss cheese fondue. The main restaurant is also decorated in an alpine style, with lots of carved warm wood furniture and beams.
For a comfortable stay, the Hotel Bernerhof Kandersteg, a traditional Swiss three star property, offers good food, fine wines, a relaxing spa and a great location.
> Click here to check current prices
---
Owned and operated by the same family for three generations, at Hotel Alfa Soleil you'll receive a warm welcome. As well as a range of room types, the hotel offers a choice of restaurants and excellent facilities for the whole family.

Location: Aussere Dorfstrasse, Kandersteg centre
Rooms:
This central Kandersteg hotel offers three star accommodation in the heart of this Swiss ski and hiking resort.
Room types range from economy singles, twins or doubles to a junior or duplex suite. Guests can also book a quadruple room.
Every one of the 32 rooms is unique and individually styled, offering all the amenities you would expect from a three star establishment.
Amenities:
Alfa Soleil has Nico's restaurant, which serves up creative, beautifully presented dishes made from high quality, locally sourced produce.
This sunny Kandersteg property also offers panoramic mountain views over the Bernese Oberland, and guests can unwind in the relaxing wellness area.
Family-owned and run, Alfa Soleil prides itself on excellent service. The family's ethos and facilities draw upon over 70 years of hotel ownership, assuring guests of a warm Swiss welcome.
> Click here to check current prices
---
With great views, comfortable rooms and easy access to the ski slopes and the cable car to Lake Oeschinen, Hotel Ermitage makes a convenient base for overnight and longer stays in Kandersteg.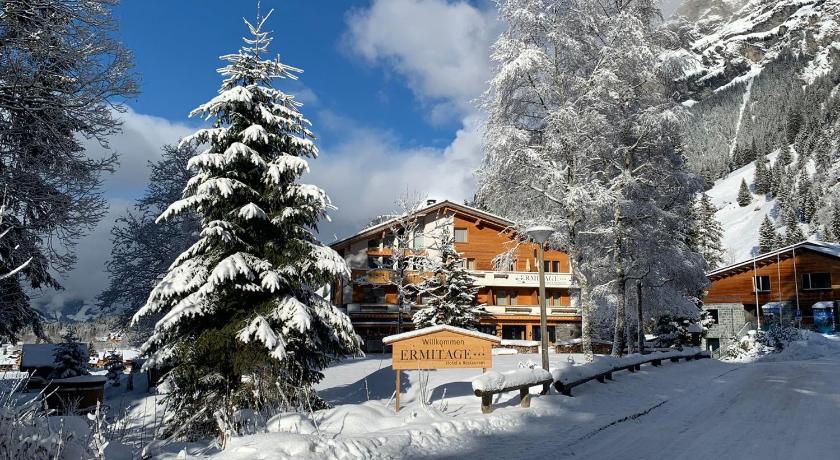 Location: Oeschistrasse, opposite Oeschinensee cable car station
Rooms:
There are 15 rooms at the Ermitage Kandersteg Hotel – all are given names rather than numbers, which reflects the management's dedication to personal service.
All peaceful, refurbished rooms offer magnificent views over the Bernese Alps, and some also have a furnished balcony.
Amenities:
This three star Kandersteg hotel offers free WiFi and parking and there is direct ski access.
The food served in the restaurant is highly rated by guests, who also love the location as it is just a one minute walk from the Kandersteg – Oeschinensee – Kandersteg cable car station.
Families and pets are welcome, and there is also a bar for enjoying those sociable aprés ski drinks.
> Click here to check current prices
---
Dating back over 200 years, the Belle Epoque Hotel Victoria is surrounded by a large park in the centre of Kandersteg. Highlights include a nostalgic Victorian dining room, cosy but modern rooms, wonderful views and great service.

Location: Corner of Chappelistrasse and Aussere Dorfstrasse, Kandersteg centre
Rooms:
This relatively large Kandersteg three star hotel is surrounded by parkland, giving the property a spacious and relaxed feel.
Room types and sizes include standard singles and twins or comfort and chalet doubles as well as mini and family suites. Decor includes soothing neutral shades and lots of honey-toned wood.
Amenities:
The Belle Epoque Hotel Victoria Kandersteg combines a welcoming atmosphere with a range of convenient facilities. These include an indoor swimming pool with garden views, a tennis court, steam bath and sauna. Families, meanwhile, will appreciate the children's playground and the kids club (open in winter).
The hotel can help guests to access biking as well as skiing trips in the local area.
> Click here to check current prices
---
This small, family-run hotel boasts excellent cuisine and a range of room types. The hotel's scenic location, just 7-minutes walk from the train station, makes it a great starting point for walks in the spectacular surrounds.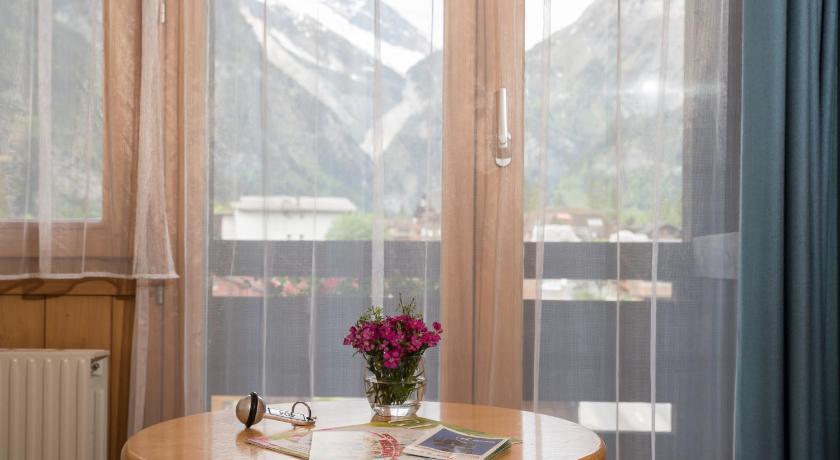 Location: Aussere Dorfstrasse, Kandersteg centre
Rooms:
Located at the foot of the mountain of the same name, Hotel Blümlisalp Kandersteg has a range of rooms and apartments, accommodating between one and four guests.
Some family rooms have bunk beds, while mountain view doubles ensure a romantic setting for your Swiss skiing trip.
Amenities:
This family-run Kandersteg hotel offers various amenities for the comfort and convenience of guests. Free parking and WiFi throughout is complemented by a free-to-use internet area.
There is an à-la-carte restaurant, sauna, billiards and bowling facilities, a sauna and sunny outdoor terrace.
This hotel is in a great location, being right by the local bus stop and making a good starting point for local exploration and excursions.
> Click here to check current prices
---
Built in 1906, the fourth and fifth generations of the family now welcome guests to Chalet-Hotel Adler. Rooms in the traditional chalet-style building are equipped with all modern amenities and offer breathtaking views.

Location: Aussere Dorfstrasse, Kandersteg centre
Rooms:
Every single or double room at this charming, traditional Swiss style hotel has a private balcony offering guests incomparable mountain views.
Accommodation is also equipped with satellite TV, en-suite bathroom with bathrobes, luxury toiletries and hairdryer. Some double rooms also feature a spa bath which, at the push of a button, can be moved to the balcony!
Amenities:
Chalet Hotel Adler Kandersteg has been run by the same family for five generations, meaning guests are in very experienced hands.
Impressive facilities include two swimming pools and a restaurant and bar as well as wellness centre and spa. This includes a sauna and hammam, and hotel staff can also arrange cycling, massages and skiing.
The traditional style restaurant serves international dishes in a rustic Swiss setting, and in summer al fresco dining is possible on the sunny terrace.
> Click here to check current prices
With a range of room types and a central location, Hotel Alpina is a good option for budget conscious guests looking for a comfort place to lay their head.

Location: Aussere Dorfstrasse, Kandersteg centre
Rooms:
This wood-fronted Alpine style two star hotel in Kandersteg offers single, twin, double, triple and quadruple rooms. The property is family and pet friendly, and is positioned within its own spacious gardens.
Rooms are simply styled, and there are mountain views from all accommodation.
Amenities:
Hotel Alpina Kandersteg serves up a daily buffet breakfast, and has free on site parking for guests' use.
There are several communal rooms, including a cosy lounge and a leisure room with board games, TV and video. Darts and table tennis facilities are also provided at the property.
During summer, guests can enjoy the sunny terrace and gardens, while in winter there is direct access to the local ski runs.
> Click here to check current prices
---
The family-run Hotel des Alpes features spacious but simply furnished rooms with panoramic mountain views and a great location next to a nature reserve and just a 10-minute walk to the train station.

Location: Innere Dorftrasse, central Kandersteg
Rooms:
Positioned just ten minutes' walk from the train station, Hotel des Alpes Kandersteg is a family-owned two star property. A good range of room types are available, from singles to family rooms with a double bed and bunks.
Budget travellers can also book a bed in a mixed dormitory.
Amenities:
This two star hotel in Kandersteg offers convenient and comfortable facilities, including free WiFi and parking, restaurant with garden terrace, convivial bar and scenic mountain views.
The property is right next to the Muggeseeli nature reserve, and in winter offers direct access to the resort's cross-country ski tracks.
A bus stop can be found just 100 metres away, where local services can take skiers straight to the lifts of the Suennbühl-Gemmi and Oeschinensee skiing and hiking areas.
> Click here to check current prices
---
Hotels in Kandersteg, Switzerland map
Click on the map to enlarge it.
---
Apartments in Kandersteg
Surrounded by well maintained grounds and with wonderful views, Victoria Alpine Park offers clean, well equipped, spacious and tastefully decorated apartments.
Location: Chappelistrasse, Kandersteg centre
Rooms:
These Kandersteg apartments range in size from one to three bedrooms. All come complete with balcony, seating area, private bathroom with shower or bath and hairdryer.
Each apartment also has a fully equipped kitchen including microwave, fridge, oven, kettle, toaster, coffee machine and dishwasher.
There are soothing views over the pretty gardens that surround the apartments.
Amenities:
This accommodation is ideal for those who wish to self-cater, and a range of other amenities is also offered.
There is free parking and WiFi, a restaurant, indoor swimming pool, a bar, an outdoor terrace and a children's playground.
A buffet breakfast is served daily, and the helpful staff can assist guests with arranging hiking or skiing excursions.
> Click here to check current prices
---
Kandersteg Visitor's Tax
All visitors to Switzerland are charged a Visitor's Tax (also known as the Swiss Tourist Tax) for each night they stay in the country. Nightly Visitor Tax rates for Kandersteg hotels and apartments are CHF 4 per adult and CHF 2 per child.
Taxes are usually paid directly to the hotel or apartment owner/manager on check out.
---
Kandersteg Guest Card
Payment of the Visitor's Tax entitles guest to a Kandersteg Guest Card. This will be provided by your hotel/apartment upon check in and entitles the holder to discounts at local attractions and services.
Where is Kandersteg?
Kandersteg is located at the foot of the Blüemlisalp Massif in the Berner Oberland region of Central Switzerland. It is 43 kilometres from Interlaken, 52 kilometres from Bern and 184 kilometres from Zurich.
---
How to get to Kandersteg
Getting to Kandersteg by train:
Rail services to Kandersteg are very frequent with hourly services to and from the town.
Trains arriving from north and central Switzerland travel via Spiez whilst those arriving from the south travel via Visp and the Lötschberg Tunnel.
Approximate travel times are as follows:
Interlaken to Kandersteg by train – 1h:13m
Bern to Kandersteg by train – 1h:10m
Zurich to Kandersteg by train – 2h:11m
Zermatt to Kandersteg by train – 2h:42m
---
Getting to Kandersteg by car:
Travellers who plan to drive in Switzerland will find access to Kandersteg easy via the excellent Swiss road network.
Should you be arriving from the south, a special vehicle train operates from Goppenstein through the Lötschberg Tunnel to Kandersteg. This reduces the travel time significantly.
Tickets can be purchased at ticket booths prior to boarding the vehicle train, or online. Fares are approximately CHF 25 per vehicle.
Journey times by car are as follows (all times approximate):
Interlaken to Kandersteg by car – 0h:40m
Bern to Kandersteg by car – 0h:50m
Zurich to Kandersteg by car – 2h:10m
Zermatt to Kandersteg by car – 2h:14m
Before you visit
If you plan on spending a few days in Kandersteg or the Berner Oberland region, consider purchasing the Regional Pass Berner Oberland. This tourist pass covers almost all public transport in the region, including trains, buses, boats and cable cars, as well as admission to numerous attractions.
The pass offers excellent value with prices starting from just CHF 220 for a 3-day pass. Find out more about the Regional Pass Berner Oberland in this article.
Planning a trip to Switzerland?

At Holidays to Switzerland we are passionate about sharing our love of Switzerland and helping you to plan the perfect trip. Read our guide to planning a trip to Switzerland to kick start your travel plans and join our free Switzerland Travel Planning group on Facebook to chat with other past and future travellers.

Want monthly news and podcast updates, helpful travel tips and special deals sent straight to your inbox? Subscribe to Holidays to Switzerland and we'll send you a bonus copy of our 10 Useful Things to Know Before You Visit Switzerland guide.

Final thoughts
As you can see, there are a good selection of apartments and hotels in Kandersteg, Switzerland.
From two star hotels for the budget conscious, to four star properties with superior amenities and facilities to enhance your wellness, Kandersteg has them all.
Travellers who prefer the option to prepare their own meals can choose from a wide array of self-catering apartments and chalets, and these are particularly appealing to families and groups of friends.
Enjoy your stay in Kandersteg!
To read our full guide to the Bernese Oberland Region, > click here.
---
PIN FOR LATER
---
SWITZERLAND TRAVEL ESSENTIALS