If you're seeking luxury hotels, stunning scenery, designer shops, upmarket bars and plenty of opportunities to ski, you must visit Gstaad. 5-star hotels await you in this stylish Swiss resort, and it's no surprise to learn that it's home to some of the leading hotels in the world. If you're looking for a grand hotel, Gstaad is the place to be.
But, if you don't have a five star budget, don't worry. There are many other hotels in Gstaad and its neighbouring villages that won't be quite as hard on your hip pocket. You'll find a good selection of 3- and 4-star hotels in Gstaad, too.
In this guide, we cover 14 highly rated Gstaad hotels ranging from three to five stars.
[This post may contain compensated links. Please see my disclosure policy for more information.]
---
Summary of Gstaad hotels covered in this guide
Useful things to know before you visit Gstaad
The region referred to as Gstaad also includes another nine chalet villages alongside Gstaad. Amongst these villages are Saanen and Schönried which are home to some of the hotels featured in this guide.
Saanen is just 4 minutes by train, 6 minutes by car and bus (line 3) from Gstaad, whilst Schönried is 8 minutes by car, 9 minutes by train or 14 minutes by bus (line 180) from Gstaad.
Whichever village you choose to stay in, you'll find that there are plenty of things to see and do in Gstaad, and you'll be surrounded by a stunning, unspoilt Alpine landscape.
---
Top 5-star hotels in Gstaad
There are plenty of luxury hotels in the world, but not all offer the privacy and views that this one does. A hidden gem, the Hotel Alpina Gstaad combines tradition with artisan flair. This is one of the best hotels Gstaad has to offer.
Location: Alpinastrasse, Gstaad.
The Alpina Gstaad sits on the hillside between Gstaad and Saanen. Guests can enjoy views across the beautiful Saaneland.

Rooms
The Alpina Hotel Gstaad is relatively small, with just 56 distinctive rooms and suites (featuring inviting open fireplaces). Every room has a balcony, so you can venture out and soak up the majestic mountain views.
Rooms also include flat-screen TV's and marble bathrooms, complete with bathrobes, slippers and lavish toiletries.
Amenities
Gstaad luxury hotels offer fine dining as standard, and the Alpina is no different. Dine as you look out over the Bernese Alps, and try the Japanese cuisine at Restaurant Megu. The wine bar has a laid-back ambience, and there's also a cigar lounge.
The Six Senses Spa (free to guests) features an indoor and outdoor pool, a relaxation area and a gym. Holistic treatments are available, too.
Free Wi-Fi and a covered parking area are welcome amenities, and the hotel also offers a shuttle service to and from Gstaad train station.
>> Click here to check current prices at Hotel Alpina Gstaad
---
Of all the 5-star hotels in Gstaad, this one has to be the most recognised. The Palace Hotel in Gstaad dates back to 1913 and has a reputation for first-rate service and discretion.
Oozing elegance, clients return time after time to soak up the luxurious atmosphere.
Location: Palacestrasse, Gstaad
Hotel Palace Gstaad sits in a very convenient spot in the heart of Gstaad. The pedestrianised promenade and shopping strip are just 300 metres away.

Rooms
Rooms at the Palace Hotel Gstaad are well-furnished and designed. Guests can choose from a cosy double with a view to the north, or a spacious deluxe room featuring a balcony with stunning Alpine views.
Alternatively, stay in a classic room with a view of the landscape, or a superior room that's not only roomy but also boasts lovely vistas.
All of the rooms have private bathrooms (some with bathtubs, and some with tubs and shower cubicles), and some have interconnecting doors.
Amenities
Guests are invited to use the expansive health club with its indoor pool, well-equipped gym, steam baths, saunas, and a jacuzzi. The spa area also has eight treatment rooms where you can enjoy a hammam experience, and a well-equipped gym.
Outside, there's another pool along with a squash court and four tennis courts.
Gstaad Palace has no less than five restaurants offering plenty of dining options – traditional Swiss fare, Italian, and gourmet cuisine are amongst the choices.
There are also two bars and the GreenGo nightclub.
>> Click here to check current prices at Gstaad Palace
---
---
Another of the prestigious hotels in Gstaad, 5-star Hotel Ermitage Gstaad-Schönried brings together a fabulous spa, stunning setting and stylish good looks.
Location: Dorfstrasse, Gstaad
Sitting high up on a terrace in the centre of Gstaad, the Ermitage Wellness & Spa Hotel provides glorious views.

Rooms
All rooms are equipped with a comfy seating area; great when you need to relax after a day of skiing. There's a minibar too, so help yourself to a drink and head out to your private balcony to soak up the views.
Amenities
Ermitage Wellness & Spa Hotel is home to a large spa area where you'll find several saunas, a steam bath and a tepidarium. There are also both indoor and outdoor pools and a hot tub.
Guided hiking and mountain biking tours are organised on-site.
The Ermitage also boasts a restaurant serving traditional Swiss cuisine. Guests can book the half-board option, which includes breakfast, lunch, afternoon cake and coffee, and a 5-course dinner menu each evening.
>> Click here to check current prices at Ermitage Wellness & Spa Hotel
---
The Grand Hotel Bellevue Gstaad is one of the most luxurious and discrete 5-star hotels in the world. High-end accommodation that manages to be both exclusive and welcoming, this secluded hideaway could be the perfect place for a break.
Location: Untergstaadstrasse (continuation of Promenade), Gstaad
The superior Hotel Bellevue Gstaad is located in private parkland, right at the end of the promenade in the heart of Gstaad. Despite its central location it is secluded and maintains a serene atmosphere.

Rooms
Rooms at the Bellevue Hotel Gstaad are lavish and inviting, just as you would expect from a hotel of this calibre. There are cosy, chalet-style rooms with rustic beams, tower rooms complete with turrets, and suites with full-length windows to showcase the stunning views.
Features include bathrobes and slippers, and a complimentary minibar.
Amenities
Boasting one of the best restaurants in Gstaad, with 1 Michelin star, Leonard's offers delectable fare. There's also a sushi bar, lounge bar, and afternoon tea is served from a traditional Swiss mountain cabin in the grounds.
At Le Grand Spa, guests can use the indoor pool, hot tub, bio sauna, Turkish steam bath, laconicum, Himalayan salt room, and ice grotto.
The hotel also has a private cinema, and a well-stocked cellar with around 9,000 bottles of wine. The wonderful art-deco theme bar comes to life in the evening with live piano music and decadent cocktails.
>> Click here to check current prices at Le Grand Bellevue Hotel
---
Another of the prestigious Gstaad hotels, 5-star Hotel Park Gstaad offers its guests the finer things in life. From cigars to cognacs and caviar, the Park hotel Gstaad has it all and more.
Location: Wispilenstrasse, Gstaad
The hotel Park Gstaad is situated in the heart of Gstaad, right next to the promenade, so you are close to all the amenities of the town.

Rooms
Rooms at the Grand Hotel Park Gstaad have a balcony or terrace, double vanity, connecting rooms, stereo, minibar and remote-control TV. Bathrooms boast a bathtub and shower unit, and you will also find a well-lit mirror and hairdryer. As a bonus, guests are offered a free newspaper, WiFi, and use of a safe.
Amenities
Parkhotel Gstaad provides a luxurious array of amenities. The spa has an indoor saltwater pool, an outdoor heated pool, a hot tub, sauna, ten treatment rooms, and lots of baths (Turkish, balneotherapy, and hydrotherapy). You can even work out with a personal trainer.
There's also a cigar lounge where you can enjoy a cognac and Cuban cigar, and a cosy library serving afternoon tea. The Club Bar serves oysters, caviar, champagne, and cocktails.
Golf enthusiasts are taken care of too, with a modern indoor Golf Club and PGA Tour simulator.
>> Click here to check current prices at Park Gstaad
---
Best 4-star hotels in Gstaad
There are many luxury hotels – Gstaad has no shortage of five-star properties, but the four-star establishments are certainly worth a look too. The Hotel Huus Gstaad sits in a glorious setting, and the vistas are complemented by the warm and modern interiors.
Location: Schönriedstrasse, Saanen
The Huus Hotel Gstaad is perched on a hill just above the village of Saanen.. Its elevated position allows you to take in the landscape below, look out on Gstaad to one side and Saanen on the other.
The Schönried cable car is just a couple of kilometres away, as is the Saanen train station.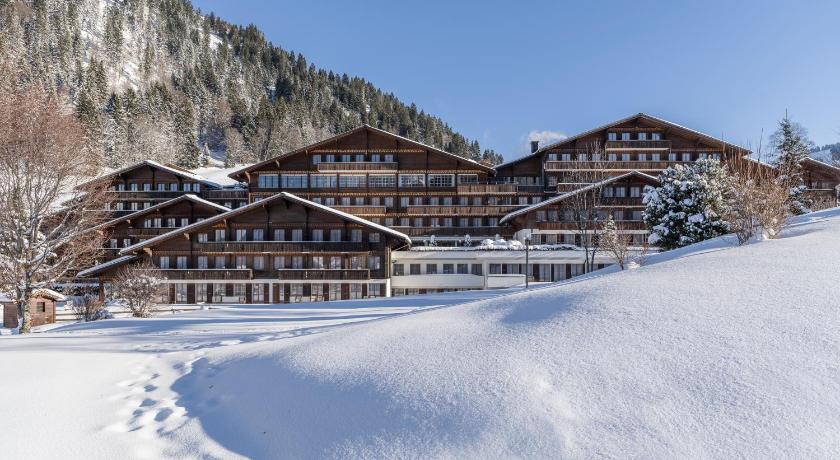 Rooms
There are 136 rooms featuring natural materials offering chalet-style décor with a modern finish. Each room has a seating area, a flatscreen TV, minibar, safe, and high-speed WiFi.
The bathrooms boast a bath, shower, heated towel rail and HUUS toiletries. There are lots of extras too, such as HUUS bags with towels, robes, and slippers.
Amenities
The hotel has leisure amenities, including an indoor pool, sauna, sunbed, and steam bath. Massages are available too.
You can eat in one of the two restaurants and have a drink in the bar. There's also a chalet nearby which serves traditional fondue.
The HUUS offers plenty for families – there's accessible WiFi, a children's playground, and a games room. The hotel is pet-friendly, providing dog beds and bowls.
>> Click here to check current prices at Huus Gstaad
---
Don't overlook the Hotel de Rougemont & Spa in your search for the region's best hotel. Gstaad and its nine chalet villages have many to choose from but this hotel, despite being a little further away in the village of Rougemont, is a popular choice amongst visitors to the area.
Location: Chemin des Palettes, Rougemont (9 minutes by train and 10 minutes by car from Gstaad)
Near to the Videmanette Ski Lift, the hotel is just a 5-minute shuttle ride from the ski slopes.

Rooms
Rooms are well-furnished and boast a flat-screen TV, minibar, safe, and free WiFi. The private bathrooms have Nuxe toiletries and every room has a balcony or terrace.
Amenities
The Rougemont offers a cosy lounge with a fireplace, a gym, and a spa, as well as a restaurant providing traditional, fresh fare. As a bonus, ski enthusiasts can hire equipment on-site and also make use of a ski storage area.
>> Click here to check current prices at Hotel de Rougemont and Spa
---
A traditional chalet-style hotel with plenty of facilities, the Arc-en-ciel Hotel, Gstaad offers a variety of rooms for those looking to ski, and enjoy the great outdoors.
Location: Egglistrasse, Gstaad
In a quiet spot on the edge of the town, the Arc-en-ciel Gstaad is adjacent to the Eggli cable car station, in a convenient location not too far from the centre.

Rooms
There are an array of rooms and suites to choose from including comfort rooms, deluxe suites, superior rooms, superior suites, standard rooms, and single rooms. There's also an apartment and 'love room' – perfect for romantics!
Amenities
The hotel's spa features a sauna, steam bath, and hot tub, and (for a fee) you can book to use the area exclusively. There is also a gym, an outdoor swimming pool and a playground and games room.
Dining options include a pizzeria with wood-fired oven and a restaurant with a garden and pretty terrace. There's also a lounge with a cosy fireplace.
>> Click here to check prices at Hotel Arc-en-ciel Gstaad
---
The Hotel Bernerhof Gstaad is a haven for those who love the great outdoors and nature. It's also a great place to head back to after a day of exhilarating Alpine fresh air.
Location: Bahnhofstrasse, Gstaad
The Bernerhof Hotel Gstaad is located in a prime spot, just a couple of minutes' walk from Gstaad Train Station.

Rooms
The Bernerhof Gstaad boasts spacious rooms with flat-screen TV's, iPod dock stations, balconies, and seating areas. The bathrooms are well-equipped too, and you will also find a hairdryer, bathrobes, and slippers.
Amenities
Guests can hire hiking equipment and bikes for free and enjoy the facilities in the spa which includes a sauna, steam bath and pool.
There's also a cigar lounge, and four restaurants – Italian, Chinese, traditional Swiss, and an award-winning gourmet eatery.
>> Click here to check current prices at Bernerhof Swiss Quality Hotel
---
When it comes to luxury hotels, Gstaad has plenty and one of these is the Hotel Gstaaderhof, with its chalet-style design and central location.
Location: Lauenenstrasse, Gstaad
Right in the middle of the town, this hotel in Gstaad is close to the cable cars and lifts, so you can get to the slopes in good time.

Rooms
This relatively small hotel has 66 rooms and is furnished in a traditional style. The bathrooms have a bath or shower, and a bathrobe.
There's also a flat-screen TV in the room, an in-room safe, minibar and free WiFi.
Amenities
The hotel offers a free shuttle to the train station and there are two restaurants and a spa featuring a sauna, steam bath, massage shower, and solarium.
>> Click here to check current prices at Hotel Gstaaderhof
---
Another of our best hotels in Gstaad choices, the Geniesserhotel has great facilities and offers a comfortable base in a scenic location.
Location: Neueretstrasse, Gstaad
On a hill up above the middle of Gstaad, this hotel has sweeping views that draw your eye over the Alps and down to the valley below.

Rooms
The rooms are Alpine in design, have private bathrooms and boast balconies that look out across the imposing mountains. You can enjoy a drink from the minibar, watch the flat-screen TV, or make use of the free WiFi.
Amenities
With a gourmet restaurant on-site, and a pretty terrace, the hotel caters for those who enjoy dining in picturesque surroundings. There's also a spa with a sauna steam bath and terrace, and an outdoor pool too. As an extra touch, the hotel offers guests a shuttle service, this is available to use on arrival and departure.
>> Click here to check current prices at Geniesserhof Le Grand Chalet
---
Top 3-star hotels in Gstaad
If you're looking for a quality, good value hotel, Gstaad has a few options. One of which is the Hotel Alpine Lodge. This one's great for families and those looking for a laid-back hotel with a welcoming vibe.
Location: Wyssmülleriweg, Saanen
The Alpine Lodge is conveniently located between the villages of Saanen and Gstaad.

Rooms
There are 60 rooms and many are themed rooms (and therefore unique). Rooms are furnished in a mix of styles, some modern and some more traditional, and all boast free internet connection. There are family rooms here too which is great if you're holidaying with youngsters.
Amenities
There's a spa on-site where you can take a break or you can work out in the fitness centre if you prefer. Children are kept occupied in the playroom, where they can play games, build with Lego, and get arty. There's even a babysitting service available.
>> Click here to check current prices at Hotel Alpine Lodge
---
Built back in 1845, the Rössli Gstaad, or the Posthotel Rössli Gstaad as it's also known, is the oldest hotel in the town. There's an unmistakable Swiss feel to the place.
Location: Promenade, Gstaad
Set right in the middle of Gstaad, the Rossli is in a prime spot.

Rooms
Rooms are furnished with alpine-style wooden furniture and have a TV, telephone, and free WiFi. Each room has a private bathroom with a tub and shower. Superior rooms also have balconies and minibars.
Amenities
There are two restaurants at the hotel, both known for serving authentic Swiss food. The hotel boasts a busy programme during summer including hiking, biking, and a visit to a rope park.
>> Click here to check current prices at Posthotel Rossli
---
The Hotel Victoria Gstaad sits in a good location and has a rustic air. If you are searching for affordable hotels, Gstaad has a few to choose from but this one also has a friendly vibe.
Location: Promenade, Gstaad
Another central hotel, the Sporthotel is right next door to a tennis centre, and the ski lifts and cable cars are easily accessible.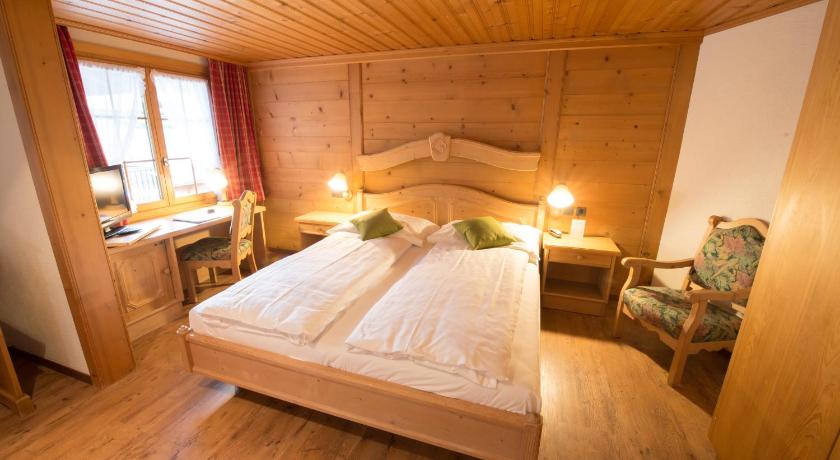 Rooms
Rooms are furnished in an authentic style, with rustic fixtures and fittings. You will find a safe and TV, along with a bathroom and hairdryer. There's WiFi available, too.
Amenities
The hotel boasts a nice restaurant which offers both Swiss fare and Italian dishes. There's a bar serving fine wines and a winter garden where you can relax. In the warmer months, al-fresco dining is available on the terrace.
WiFi is available in the public areas.
>> Click here to check current prices at Sporthotel Victoria Gstaad
---
Map of Gstaad hotels
The map below shows the location of the fourteen hotels covered in this guide. Click on the map to open it.
---
Gstaad Visitor Tax
All adult guests who stay overnight in the municipality of Saanen (which includes Gstaad, Schönried, Saanenmöser, Turbach and Ablänschen) are required to pay a visitor's tax.
Current rates are: CHF 5.60 per night for 5* hotels, CHF 4.90 per night for 4* hotels, and CHF 4.40 per night for 3* hotels and holiday apartments.
In return for paying the visitor's tax, guests will receive a Gstaad Card which entitles them to reductions at a number of businesses in the region.
---
Where is Gstaad
Gstaad is situated in the Canton of Bern in south western Switzerland. It is 87 kilometres from Bern, 152 kilometres from Geneva and 207 kilometres from Zurich.
---
How to get to Gstaad
Gstaad is well serviced by public transport and an excellent road network. Journey times from major Swiss cities are as follows:
Bern to Gstaad – 1h:15 by car / 2h:20 by train via Spiez
Geneva to Gstaad – 1h:50 by car / 3h by train
Zurich to Gstaad – 2h:30 by car / 4h:05 by train
Gstaad is a stop on the GoldenPass Line, one of Switzerland's most popular panoramic train routes.  Montreux can be reached via the GoldenPass Line in just 1h:35 and Interlaken in 2h:04.
---
If your visit to Gstaad is part of further travels in the Bernese Oberland, including Interlaken and the Jungfrau region, it is worth considering purchasing a Regional Pass Berner Oberland.

This transport and sightseeing pass includes travel on trains, buses and boats (including the GoldenPass Line) as well as discounts on mountain excursions, museum admission and more.

>> Find out more about the Regional Pass Berner Oberland here
---
Final Thoughts
You really are spoilt for choice when it comes to hotels in Gstaad, Switzerland.
As you can see, you will find some of the most luxurious hotels in the world in Gstaad but there are wonderful hotels for those with a smaller budget, too.
With so much to offer, from Swiss charm to contemporary features, the hotels in Gstaad that we have featured are difficult to beat.
With restaurants, bars and spas, free bike hire, sunny terraces and winter gardens, these 3-star, 4-star and luxury hotels in Gstaad have it all.
As they say in Gstaad, Come Up, Slow Down. By booking a hotel here, you can do just that.
Enjoy your stay!
To read our full guide to the Bernese Oberland Region, > click here.
---
Planning a trip to Switzerland?

At Holidays to Switzerland we are passionate about sharing our love of Switzerland and helping you to plan the perfect trip. Read our guide to planning a trip to Switzerland to kick start your travel plans and join our free Switzerland Travel Planning group on Facebook to chat with other past and future travellers.

Want monthly news and podcast updates, helpful travel tips and special deals sent straight to your inbox? Subscribe to Holidays to Switzerland and we'll send you a bonus copy of our 10 Useful Things to Know Before You Visit Switzerland guide.

PIN FOR LATER
---
SWITZERLAND TRAVEL ESSENTIALS