Located in the Canton of Valais, the town of Leukerbad has been a popular destination thanks to its thermal springs since Roman times. With 3.9 million litres of thermal water – at a temperature of 51°C (124 °F) – gushing from 65 thermal springs in the town every day, Leukerbad has now become one of the biggest wellness centres in Switzerland.
If you are planning to stay in one of the Thermalhotels Leukerbad offers, read on. This guide will help you to choose the best hotel in Leukerbad whether you are travelling alone, as a couple, a family or a group.
[This post may contain compensated links. Please see my disclosure policy for more information.]
Useful things to know about Leukerbad
The largest public baths in Leukerbad (Terme di Leukerbad) are the Leukerbad Therme (previously called Burgerbad) and the Walliser Alpentherme.
As well as being a highly regarded spa town, Leukerbad, Switzerland is a popular winter ski destination with around 50 kilometres of ski pistes and 30 kilometres of cross-country ski trails. Visitors arriving in summer can also enjoy the mountains, with cableways connecting the holiday resort to both the Gemmi Pass and Torrent.
Leukerbad can be reached by public transport. Regular trains services are available from right across the country to Leuk with an hourly bus service connecting on to Leukerbad (31 minutes from Leuk to Leukerbad).
If you prefer to drive around Switzerland, Leukerbad is easily accessible on Switzerland's extensive road network. Driving times to Leukerbad are around 2h:15m from Geneva, 2h:30m from Bern and 3h:30m from Zurich.
Summary of Leukerbad hotels covered in this guide
10 of the best Leukerbad Hotels
Location: Tuftstrasse 17, Leukerbad. (8-minute walk from Leukerbad Therme.)

Rooms:
The Hôtel Les Sources des Alpes is the only Leukerbad hotel that sports a five-star rating. It has 30 rooms, junior suites and suites. Each has its own balcony with views over the hotel garden and outdoor pool, or the idyllic Swiss village and Daubenhorn.
Even the smallest rooms at the hotel are spacious enough to accommodate a couple as well as an infant if required. En suite facilities include separate shower and bath, hairdryer, bathrobes and slippers. There is also a desk and minibar in each room.
Amenities:
The Hôtel Les Sources des Alpes has its own thermal springs, meaning guests can relax in naturally heated indoor and outdoor pools after a day hiking or skiing in Leukerbad. There are also wellness treatments available, as well as a sauna, gym and beauty centre.
The hotel's gourmet restaurant, La Malvoisie, boasts its own wine cellar and a terrace for al fresco dining.
There is free parking on site and all guests are issued with the Leukerbad Card Plus, affording them exclusive entertainment options, discounts on the cable car and local spas plus free use of public buses and sports facilities. Non guests can also pay to use the spa for half a day.
>> Click here to check current prices
---
Location: 1 Dorfplatz, Leukerbad. (7-minute walk from Leukerbad Therme.)

Rooms:
This newly renovated property offers a range of contemporary, marble-floored accommodation. All rooms offer free WiFi, flatscreen TV, seating area, work desk, minibar and en-suite bathroom with bathrobes and slippers.
Room sizes range from single, twin and double rooms to family accommodation, deluxe doubles and junior suites, making this property suitable for all kinds of travellers.
Amenities:
The Hotel De France by Thermalhotels enjoys a central position in Leukerbad's Dorfplatz, right next to the Walliser Alpentherme and close to Daubenhorn. An underground path connects the hotel with the Walliser Alpentherme, and guests enjoy discounted entry rates.
The hotel also features its own wellness and spa area, which includes saunas, a grotto bath and outdoor and indoor pools.
A varied hot and cold breakfast buffet is available daily, while the hotel's Sacre Bon restaurant serves up an excellent range of Swiss, French and international dishes as well as grills and seasonal specials.
For snow sports enthusiasts, the Hotel De France Leukerbad also offers ski storage and a ski and snowboarding school.
>> Click here to check current prices
---
---
Location: Kurparkstrasse 24, Leukerbad. (4-minute walk from Leukerbad Therme.)

Rooms:
Therme 51° comprises two buildings – the main hotel plus an annexe – as well as a separate guesthouse. Every room features flatscreen cable TV, and a tablet that can be used as a digital concierge for accessing hotel information and booking treatments and other services.
Most rooms have a private balcony, offering guests panoramic views over the mountainous landscape. Rooms range from standard singles or doubles accommodating one or two guests to junior or two-bedroom suites.
Amenities:
Occupying a central location in Leukerbad, the hotel Therme 51 sits between the Alpen and Leukerbad thermal baths. Complimentary use of the on-site thermal bath is available to all guests.
A children's playroom, library and common room make this property ideal for families, and adults can book a range of wellness, physiotherapy and beauty treatments.
A buffet breakfast is served daily and guests can also sample refined Swiss cuisine for lunch or dinner.
Each guest is given a Leukerbad Plus Card, giving free access to squash and tennis courts, mini golf, fitness facilities, table tennis and even an ice skating rink. Card offers are seasonal, and in summer electric bikes can be used as well as local buses.
>> Click here to check current prices
---
Location: Goppenstrasse 28, Leukerbad. (6-minute walk from Leukerbad Therme.)

Rooms:
All rooms at the Hotel Alfa Leukerbad offer free WiFi and flatscreen cable TV. They also have private balconies with views over the hotel gardens and mountains.
Room decor features wood flooring and furniture, and each includes a minibar, seating area and en-suite bathroom with hairdryer and bathrobes.
The hotel's range of accommodation comprises 11 doubles, 3 family rooms and 4 more spacious apartments, making this an ideal base for couples and families alike.
Amenities:
The family-run Hotel Alfa in Leukerbad serves a rich and varied buffet breakfast to guests each day. An on-site restaurant offers Swiss and international dishes, and includes a Winter Garden.
Hotel guests benefit from complimentary admission to the nearby Sports Arena and Leukerbad Therme. Guests can use steam bath, sauna and fitness facilities free of charge, and can also use the Gemmibahn Cable Car on a complimentary basis.
>> Click here to check current prices
---
Location: Rathausstrasse 36, Leukerbad. (7-minute walk from Leukerbad Therme.)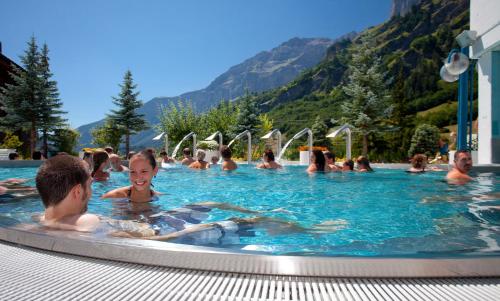 Rooms:
A range of spacious rooms can sleep between one and five guests, making this property perfect for families, couples or solo travellers. All room rates include use of the cable car and spa, and many have balconies. En-suite bathrooms, free WiFi and cable TV are provided in every room.
Amenities:
Guests of Hotel Alpenblick Leukerbad can access the thermal baths next door free of charge, as well as enjoying complimentary use of the Gemmibahn cable car.
The hotel has a refined restaurant serving a range of grilled dishes and free ski storage is also offered.
Every guest can use their free Leukerbad Card Plus for travel on local buses as well as entry to the sports centre, where skating, tennis, skiing and other activities are offered.
>> Click here to check current prices
---
Location: Rathausstrasse 38, Leukerbad. (7-minute walk from Leukerbad Therme.)

Rooms:
Every room at the Hotel Walliserhof in Leukerbad has private en-suite bathroom, flatscreen cable TV and is fully furnished including a spacious wardrobe. Facilities supplied include balconies, hairdryer, WiFi, bathrobes and mini bar.
Accommodation includes budget double rooms as well as singles, doubles and family rooms that include cable car use and spa access.
Amenities:
This Leukerbad hotel has indoor and outdoor pools, a fitness centre and an on-site restaurant. A daily breakfast buffet is available to guests.
Other hotel features include Turkish and hot spring baths and a sauna. There are also facilities for guests to play mini golf, table tennis and tennis at the property, while popular pastimes in the local area include hiking and skiing.
>> Click here to check current prices
---
Location: Rathausstrasse 51, Leukerbad. (6-minute walk from Leukerbad Therme.)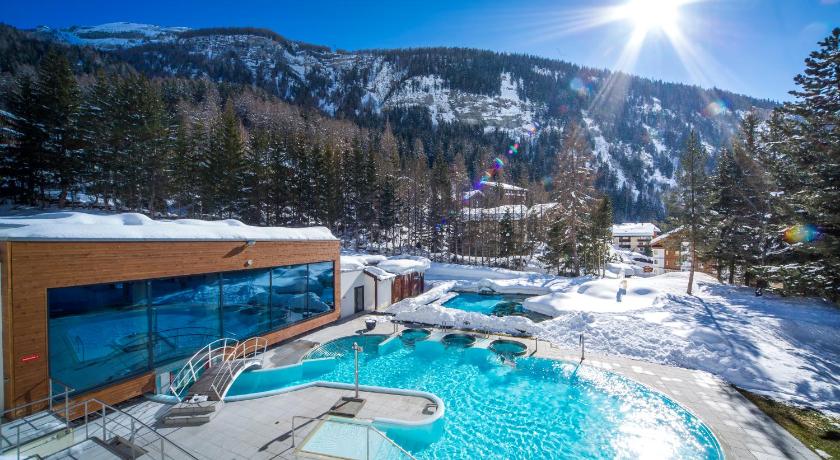 Rooms:
Hotel Le Bristol Leukerbad has a range of rooms accommodating up to four guests in each. There is also a suite for four and an apartment sleeping up to nine. This makes Le Bristol ideal for couples, families and groups.
Most of this Alpine style property's 67 rooms come complete with a private balcony or terrace. Every room has en-suite bathroom with slippers and robes plus TV, safe, free WiFi, minibar and hairdryer.
Amenities:
This traditional Swiss four-star property has a range of guest facilities.
There are thermal pools indoors and outdoors, fed by the hotel's own hot springs. A fitness area, steam bath and sauna also gives guests the chance to relax and unwind. Beauty and massage treatments can also be booked.
The restaurant at Hotel Bristol Leukerbad offers dishes crafted from fresh and seasonal produce, which can be savoured while enjoying panoramic views over the surrounding mountains. Post-dinner drinks can be taken in the piano bar.
The hotel also has car parking plus conference, games and function rooms.
---
Location: Dorfplatz 1, Leukerbad. (7-minute walk from Leukerbad Therme.)

Rooms:
Accommodation at the Thermal Hotels & Walliser Alpentherme (sometimes referred to as Hotel Alpentherme Leukerbad) is found in three separate, neighbouring buildings on Dorfplatz. These are interconnected via an underground corridor.
Every room offers cable TV and creature comforts like bathrobes and slippers. Some rooms also offer guests magnificent mountain views.
Thanks to the fact that there are various sizes and types of room here, this three-star Leukerbad hotel is suitable for singles, couples and families.
There are standard or deluxe singles, doubles and family rooms as well as a range of suites sleeping up to five.
Amenities:
A range of eating options is yours at this Leukerbad hotel.
The Maison Blanche restaurant serves breakfast each morning, and later in the day Swiss specialties and international dishes can be savoured at the Sacre Bon restaurant or Eau Là Là Bistro. The Grand Bain Bar, meanwhile, features a relaxing open fireplace.
Other hotel amenities include fitness and spa facilities and free WiFi throughout. There are indoor and outdoor pools, a steam bath, hot tub and sauna as well as spacious gardens and tennis courts.
>> Click here to check current prices
---
Location: Klibenstrasse 19, Leukerbad. (17-minute walk from Leukerbad Therme.)

Rooms:
A range of en-suite rooms is offered at the Hotel Regina Terme, the majority of which have their own private terrace or balcony. These range from mountain view singles with balcony to various doubles and a two-bedroom family suite.
Accommodation at this three-star hotel in Leukerbad include spacious, soundproofed, allergy free and heated rooms, many of which are south facing.
Amenities:
The hotel enjoys a peaceful position on the edge of Leukerbad. There is free parking and WiFi at the property and a free arrival and departure shuttle is provided.
Hotel facilities include indoor and outdoor thermal pools and a garden with sun terrace. Additional services such as wellness, beauty and massage treatments can also be booked.
>> Click here to check current prices
---
Location: Pfolongstutz 2, Leukerbad. (5-minute walk from Leukerbad Therme.)

Rooms:
All rooms at Hotel Viktoria Leukerbad come with flatscreen cable TV, free WiFi and a private balcony. The property also provides guests with towels and bathrobes for use at the Burgerbad Thermal Centre.
This three-star, chalet-style property offers 35 beds in a range of single and double rooms. All rates include access to the Leukerbad Therme.
Every room has a shower and WC with hairdryer and make-up mirror, radio, LCD TV, free WiFi and safe.
Amenities:
A children's games room at Hotel Viktoria makes this a great choice for families. Every guest is issued with the Leukerbad Card Plus, giving generous discounts on Torrent Cable
Car trips as well as free bus travel and access to various local sporting facilities, including an 18-hole golf course.
The location, next to Europe's biggest alpine thermal bathing complex, is the unique selling point of the Viktoria Hotel. Leukerbad Therme is right next door and offers direct, free access for hotel guests.
>> Click here to check current prices
---
Leukerbad Hotels Map
Click on the map below to open it.
---
Leukerbad Visitor Tax
All visitors who stay overnight in Leukerbad (and the municipalities of Albinen, Inden and Varen) are required to pay a Tourist Tax. For hotel guests, the cost is CHF 6 per adult per night. Children 6 to 16 years pay CHF 3 per night, whilst children under 3 years old are free of charge.
Payment of the Leukerbad Tourist Tax entitles guests to the Leukerbad Card Plus (LBC). The LBC has a number of advantages which include discounts on a number of local attractions including thermal bath admission and free use of the Sports Centre.
---
Leukerbad Weather
You can expect average temperatures of 3°C (37°F) during December and January, whilst the warmest months – June, July and August – can reach top temperatures around 25°C (77°F).

Final Thoughts
As you can see, when it comes to hotels, Leukerbad has plenty to choose from. Whether you are visiting the town for skiing or hiking, or just to relax in the soothing waters at a thermal hotel, Leukerbad is the ideal destination to include in your Switzerland itinerary.
>> Click here to browse all hotels in Leukerbad
---
Planning a trip to Switzerland?

At Holidays to Switzerland we are passionate about sharing our love of Switzerland and helping you to plan the perfect trip. Read our guide to planning a trip to Switzerland to kick start your travel plans and join our free Switzerland Travel Planning group on Facebook to chat with other past and future travellers.

Want monthly news and podcast updates, helpful travel tips and special deals sent straight to your inbox? Subscribe to Holidays to Switzerland and we'll send you a bonus copy of our 10 Useful Things to Know Before You Visit Switzerland guide.


PIN FOR LATER

Top image courtesy of Leukerbad Therme.
---
SWITZERLAND TRAVEL ESSENTIALS