Switzerland's stunning landscape never fails to impress and it has attracted royalty from around the world for hundreds of years.
You, too, can be king or queen for a night (or more) when you stay in one of the numerous castle hotels in Switzerland.
Whilst not all these properties were actual royal residences, they do have the appearance of a castle or palace and will leave you feeling like you've stepped into a fairytale.
If you've always dreamed of spending a night in a castle hotel in Switzerland, read on to find out where you can do just that.
[This post may contain compensated links. Please see my disclosure policy for more information.]
---
Summary of most popular Castle hotels in Switzerland covered in this guide
Canton of Lucerne
Château Gütsch is the best hotel in Lucerne for those who want to experience castle life while staying in the city. The building dates back to the 19th century and overlooks Mount Rigi and Lake Lucerne.
The hotel successfully combines modern amenities with history. Expect flatscreen TVs, WiFi throughout and Tesla charging points, plus rooms that are modern yet feature subtle nods to the past.
Rooms:
The range of accommodation offered at Château Gütsch includes standard and superior doubles, plus a selection of suites. Some rooms have lake views, and various suites come with a terrace or even an orangery.
The interior decor effortlessly combines the classic and the contemporary here. The complete overhaul was recently overseen by a renowned interior designer.
Amenities:
Château Gütsch offers room service, a restaurant and bar and a 24-hour front desk. Outdoor dining is available on the terrace, and the eatery serves local and Mediterranean specialities.
The hotel also has a car park with electric and Tesla charging points, and a tour desk.
> Click here to check prices and book
Find more hotels in Lucerne in this guide.
---
Canton of St. Gallen
Schloss Wartegg is a three star plus property that's positioned only 100 metres from the waters of Lake Constance. The 13 hectare site provides guests with plenty of outdoor space, and there are incredible views over the lake or mountains from within.
The castle isn't the only heritage attraction here. Wartegg Castle also boasts its own Turquoise Bath that dates back to 1928. At weekends, guests can also take guided walks through the castle's own English-style park.
Rooms:
Schloss Wartegg offers a wide range of room types. There are junior suites and family rooms as well as singles and doubles, plus a more 'romantic double' for those special occasions.
Decor is modern and minimalistic, and accommodation is equipped with iPod docking stations and complimentary WiFi.
Amenities:
This castle hotel in Switzerland has a fine dining restaurant that specialises in dishes made from seasonal, organic and local produce. There is a sunny terrace for al fresco dining.
The historic Turquoise Bath is also a star attraction, and a local bus stop can also be found about 100 metres from the hotel. A library and tea room are also available for guests' use.
> Click here to check prices and book
---
Canton of Bern
Schloss Schadau is a historic Swiss hotel resembling something from a children's fairytale or fantasy. The dusky pink and cool grey structure is topped by a series of turrets and narrow towers.
This Swiss schloss is also perched right by Lake Thun within reach of the town centre. The views from the hotel and its grounds are unparalleled, and the grandeur within cannot fail to impress.
Rooms:
Rooms at Schadau Castle come with flatscreen TVs, work desks and safes. Some have private balconies, or offer views over the lake or gardens.
Size wise, accommodation ranges from small and standard doubles to luxe doubles and suites with lake views.
Amenities:
Schloss Schadau offers a selection of shared spaces for guests to enjoy, including a lounge and the pleasant gardens. There is also a restaurant and bar on site. A continental or cooked breakfast is available here daily.
This hotel is ideally placed for those who want to enjoy active pursuits in and around Lake Thun, including skiing in winter, summer hiking and cycling as well as boat trips and water sports.
> Click here to check prices and book
Read our 13 reasons to visit Lake Thun here.
---
Canton of Ticino
Located in sunny southern Switzerland, both the town of Ascona and the Romantik Hotel Castello Seeschloss are more Mediterranean in style than many places in Switzerland. Both the town and castle are also located on the shores of Lake Maggiore.
The setting is splendid, with three separate structures surrounding a central swimming pool. For historic rooms with the wow factor and a great location, Romantik Hotel Castello is very difficult to beat.
Rooms:
If you'd like to try staying in a medieval tower room, then you can do exactly that at Castello Seeschloss. With frescoed walls and ceilings and dramatic, arching windows, the sight of this room is breathtaking.
Other accommodation options available at this hotel include superior singles and doubles, small doubles and Queen rooms.
Amenities:
Romantik Hotel Castello Seeschloss has both a car park and a garage, so it's ideal for those travelling by car around Switzerland. The outdoor pool is heated between late April and early October, and the restaurant has a beautiful outdoor terrace on which to savour local, Mediterranean or international cuisine.
Central Ascona is just over 300 metres from the hotel, and offers shops, cafes and restaurants along the lakeside promenade. Ascona is known for its architecture, which is generally more Mediterranean in style than Swiss.
> Click here to check prices and book
Discover all the things to do in Ascona in this guide.
---
Canton of Vaud
If the idea of staying in a restored medieval castle appeals, then book your room at Château d'Ouchy. This Swiss castle hotel offers a location on the shores of Lake Geneva, and a spa area with hammam.
The hotel even still retains its original keep, and character features such as arched stone windows can be found throughout the building.
Rooms:
Around ten different room types are offered at Château d'Ouchy, and around half of these are spacious suites. More moderate doubles come with views over Lake Geneva or the city of Lausanne.
All accommodation here is air conditioned and comes with a furnished seating area, mini bar and private bathroom with slippers and robes.
Amenities:
Château d'Ouchy has a Mediterranean-style eatery, plus a snug bar for pre- or post-dinner drinks. Outdoors you'll find the swimming pool plus a large terrace for relaxation. Guests can further unwind at the leisure zone, which has a hammam, a gym and a sauna.
On site parking is available at Château d'Ouchy. The local amenities of Lausanne's Ouchy district are also accessible nearby, with the town centre being a little further away.
> Click here to check prices and book
---
Planning a trip to Switzerland?

At Holidays to Switzerland we are passionate about sharing our love of Switzerland and helping you to plan the perfect trip. Read our guide to planning a trip to Switzerland to kick start your travel plans and join our free Switzerland Travel Planning group on Facebook to chat with other past and future travellers.

Want monthly news and podcast updates, helpful travel tips and special deals sent straight to your inbox? Subscribe to Holidays to Switzerland and we'll send you a bonus copy of our 10 Useful Things to Know Before You Visit Switzerland guide.

---
Canton of Fribourg
Schloss Ueberstorf is a historic, white-fronted country house with shuttered windows and a steep, tiled roof housing top floor rooms. It can be found in Ueberstorf, relatively close to the canton and city of Bern.
The hotel is set among pleasant green parkland, which is dotted with ancient trees. The building itself dates back to more than 500 years ago.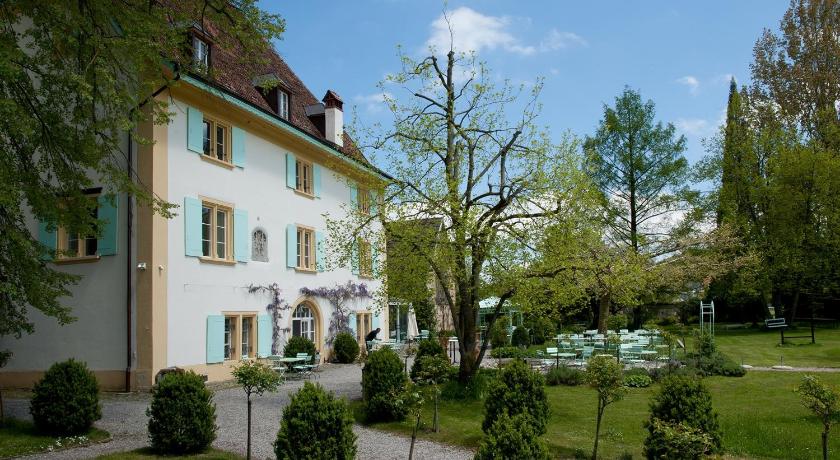 Rooms:
Accommodation at Schloss Ueberstorf is furnished with an interesting mix of antique and contemporary pieces.
Double and twin rooms are available here, and each is light and bright thanks to white walls and linens and the use of natural wood for flooring and furniture.
Amenities:
The hotel has a smart restaurant serving a selection of creative dishes. In summer, you can dine beneath the old trees overhanging the sunny terrace. All accommodation also offers great views over the park-like grounds.
Other hotel amenities include complimentary WiFi throughout, a private car park and of course the spacious gardens. Nearby access to the A12 motorway makes getting around the area simple for those with a car.
> Click here to check prices and book
---
Canton of Bern
Schloss Münchenwiler is situated in Bern canton, close to the border with the canton of Fribourg. A two bedroom private apartment is available here for up to five guests.
The apartment is located within a historic castle building, and offers lovely views over this pastoral region. This well-equipped apartment is the ideal place to stay when you'd appreciate more space and privacy.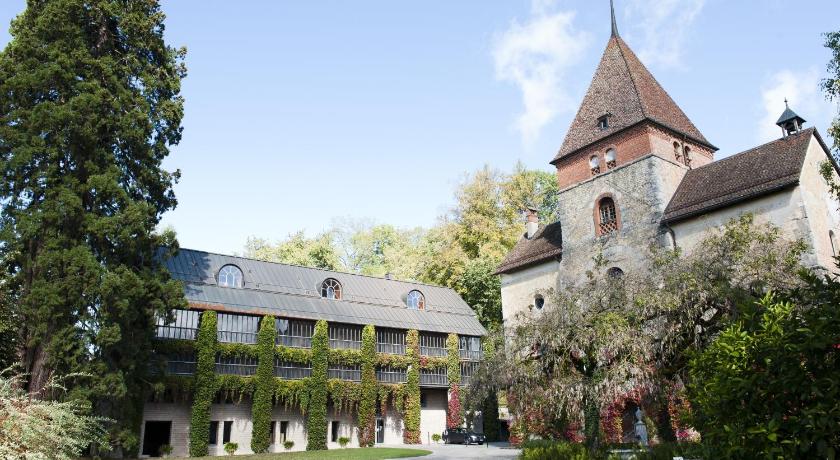 Rooms:
The apartment has two bedrooms, plus a sofa bed in the lounge area. Each of the bedrooms has a double bed, so up to five guests can be accommodated.
Other rooms include a fully equipped kitchen for self catering, a dining area for sit-down meals with the family, and the lounge with TV and sofa bed. There are two bathrooms, and the property also has a washing machine.
Amenities:
Apartment Schloss Münchenwiler also offers outdoor space in the form of its own garden and car parking. The shores of Lake Murten are only around a mile from the property, and WiFi is provided for guests.
> Click here to check prices and book
---
Canton of St. Gallen
The style of Hotel Schloss Ragaz leans more towards the Bavarian, and can be found in the Swiss spa resort of Bad Ragaz. This area is famed for its natural springs.
The property enjoys a peaceful, parkland setting, and there is also an outdoor pool in the grounds. A spa occupies a separate pavilion, and there are great amenities here including a hot tub, steam bath, Finnish sauna and massage showers.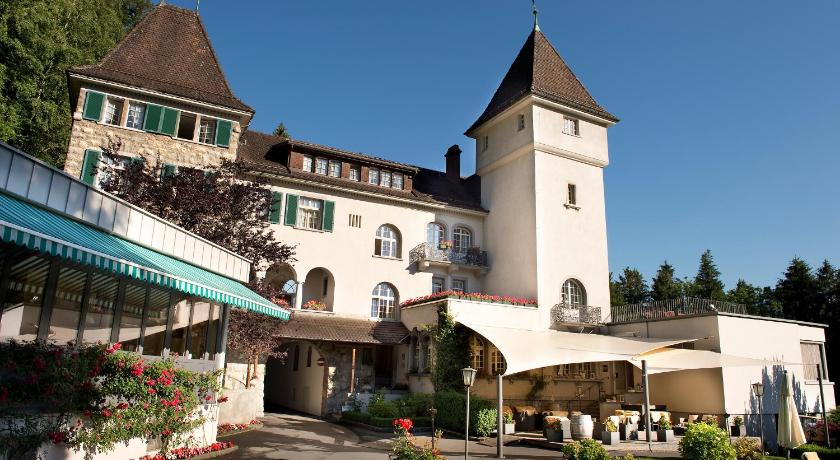 Rooms:
There are half a dozen room types offered at Hotel Schloss Ragaz. The simplest and smallest are the singles in the annexe, while the castle double rooms can accommodate up to three. Triple and quad annex rooms are ideal for families and small groups.
While rooms vary in style, all look fresh with lots of natural light. Modern and older furnishings are used within, meaning each room has a unique appearance.
Amenities:
Hotel Schloss Ragaz has its own well-appointed spa, and is also close to a local golf course. The spacious grounds house the spa building, which is equipped with massage showers, a Finnish sauna, steam and aroma baths, a hot tub and a relaxation zone.
Other facilities at this property include car parking and a restaurant serving breakfast daily, plus a range of international and Swiss cuisine later in the day.
> Click here to check prices and book
---
Canton of Bern
If you want to stay in a historic property while enjoying stunning views of the Swiss Alps, then there's no better place than Gstaad Palace.
The structure dates back to 1913, and is a sizable hotel with around 250 staff. As such it offers a superb health club and spa, five restaurants, tennis and squash courts and even the GreenGo nightclub.
Rooms:
As you might expect from a hotel of this size, there are plenty of rooms and suites to pick from at Gstaad Palace. These include cosy doubles, classic rooms and suites and deluxe suites and rooms with mountain views.
All accommodation is subtle yet luxurious in style, combining classic and modern touches to create a refined and comfortable space.
Amenities:
With around 250 staff, there's always someone to attend to your every need at Gstaad Palace. There are five restaurants to dine at, including Swiss, Italian, grill and fine dining eateries. A nightclub and a couple of bars complete the list.
An area of 1,800 square metres houses the hotel spa. This boasts a private suite, eight treatment rooms, a hammam zone, saunas and steam baths and more. These are also indoor and outdoor pools and a gym, plus tennis and squash courts.
> Click here to check prices and book
You'll find more hotels in Gstaad in this guide.
---
Canton of Zurich
The Dolder Grand is ideal for those who want to spoil themselves while visiting Switzerland. It's located right by the cogwheel railway station (an easy way to reach the city centre), and the elevated position gives guests sweeping views over the area.
The Alps, forest and Lake Zurich as well as the city can be seen clearly from parts of the hotel and its grounds. A two Michelin starred restaurant and a 4,000 metre spa also add to this property's list of impressive attractions.
Rooms:
There's certainly lots of choice when it comes to room types at the Dolder Grand. Superior singles and doubles provide very comfortable accommodation, or you can upgrade to a range of more spacious rooms and suites. Some have balconies and panoramic mountain, city, forest or lake views.
All rooms are fitted with flatscreen cable TV, and offer deluxe bathrooms complete with upmarket toiletries, slippers and bathrobes.
Amenities:
In addition to the doubly Michelin starred restaurant, 14 Gault Millau points have been awarded to the Saltz restaurant here. Gourmet, modern and international dishes are served up here to the appreciation of serious foodies. There is also a bar for drinks after or before dinner.
The outstanding spa at the Dolder Grand is one of the property's key highlights. It offers a large swimming pool, male and female areas and a gym plus suites and treatment rooms. A wide range of pampering and restorative massages, facials and body treatments can be booked here.
> Click here to check prices and book
You'll find more places to stay in Zurich in this guide.
---
Map of Castle Hotels in Switzerland
Final Thoughts
If you are dreaming of spending a night in a castle hotel in Switzerland, there are plenty of options in this guide. From luxurious 5-star establishments to more traditional, but no less charming, Swiss castle hotels, there's something to suit every budget.
Give yourself the royal treatment and a book a stay at one of these special castle hotels in Switzerland. You deserve it!
---
Switzerland Travel Essentials