Quality. Efficiency. Beauty. Cleanliness. These are words that spring to mind when I think of Switzerland. But when searching for accommodation in Switzerland, another word jumps out. Variety.
Holidays past have seen me staying in some of Switzerland's finest hotels and my favourite-ever camping ground at Lauterbrunnen but these styles of accommodation are just the tip of the iceberg.
Hostels and backpacker lodges, holiday apartments and B&Bs are other popular accommodation choices but did you know that in Switzerland you can also sleep in a hotel on stilts, stay in a former prison, or spend the night in a wine barrel-shaped hotel room or in a former toll house? You can even sleep on straw in a farmer's barn.
Obviously not all these options will be available year round (it would be a little chilly sleeping on straw during a Swiss winter!) but regardless of when you plan on visiting Switzerland, you'll certainly have plenty of choice when it comes to accommodation.
And the best thing about having a variety of accommodation options to choose from is that means there's something to suit every budget. Holidaying in Switzerland need not be expensive, as you will see.
In this article, we cover some of the most unique places to stay in Switzerland.
[This post may contain compensated links. Please see my disclosure policy for more information.]
Summary of accommodation mentioned in this guide
Unique places to stay in Switzerland
Water views are always a winner and none get better than those from the rooms at Hotel Palafitte. This is Europe's only 5 star luxury hotel built on stilts. Situated at Neuchâtel and built over the lake of the same name, the Hotel Palafitte comprises 40 beautiful rooms all with lake views.

Each of the 24 Lake Pavilion rooms has its own direct access to the lake via a small ladder from the private terrace, and all rooms offer wonderful views of the lake from the private balconies and the bathtub!
Just a few minutes from the city of Neuchatel, Hotel Palafitte's facilities include free guest parking, free WiFi and a restaurant and bar. The restaurant terrace (open April to September) and waterfront terrace (May to September) are popular for both the delicious cuisine and the fabulous views over the lake and to the neighbouring mountains.
Location: Neuchatel is 51 kilometres from Bern, 124 kilometres from Geneva and 152 kilometres from Zurich.
> Click here for more info and to book
---
Built to resemble a wine cellar, the 11 barrel-shaped rooms at Hotel Rüedi offer comfortable accommodation in a quiet, rural setting amongst vineyards.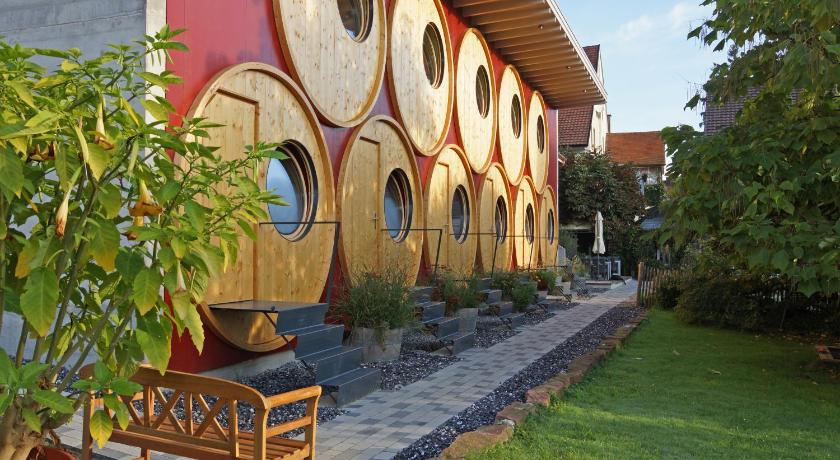 The barrel rooms are a fairly recent addition to the property which is owned by the sixth generation of the Rüedi family who grow grapes on the property. Their wines can be enjoyed in the on-site wine bar which is open daily from 3pm.
The 3 star rooms include a king sized bed, shower, WC, wash basin, TV, WiFi and a large window looking over the garden. Breakfast is included in the nightly rate.
Location: Trasadingen is 18 kilometres from Schaffhausen, 45 kilometres from Zurich and 78 kilometres from Basel.
> Click here for more info and to book
---
A hotel in the tollhouse of an historic bridge – Zollhaus Hotel, Bern
Spanning the turquoise water of the River Aare in Switzerland's capital Bern, the Nydeggbrucke (Nydegg Bridge) is home to a former toll house that has now been converted into a tiny hotel.

A stay at Hotel Zollhaus is certainly unique – you and your travelling companion will be the only guests. Whilst other guests may be missing, comfort certainly isn't. The 70 square metre room covers two floors and features a master bedroom with sitting area and freestanding shower, a small dining area, a second bathroom, refrigerator, coffee machine and two TVs.
Continental breakfast is delivered to your room.
There are views of the River Aare, Bern Old Town and the Bear Park from this cosy one-suite hotel.
Location: Bern is the capital city of Switzerland and is situated 123 kilometres from Zurich and 159 kilometres from Geneva.
> Click here for more info and to book
---
With an environmentally-friendly ethos in mind, the owners of Whitepod Eco-Luxury Hotel have built 18 pods and 9 pod suites on a large private property. Each of the pods are completely independent and have been designed with modern luxury stays in mind.

Amenities include a private bathroom, small terrace, floor-to-ceiling windows and a pellet stove, and family pods which can accommodate two adults and two children.There is a restaurant, sauna and spa on site.
The property is built at 1400 metres and offers wonderful views of the surrounding countryside.
Location: Cerniers is 37 kilometres from Montreux and 130 kilometres from Geneva.
> Click here for more info and to book
---
If you've ever dreamed of running away with the circus, staying in a circus wagon could be the next best thing!
At Camping Wagenhausen, near Stein am Rhein, guests can stay in three self-contained circus style caravans.
Each circus wagon can sleep up to four people and is fitted with a fully equipped kitchen, dining table, bathroom, toilet, and WiFi, and bed linen is supplied.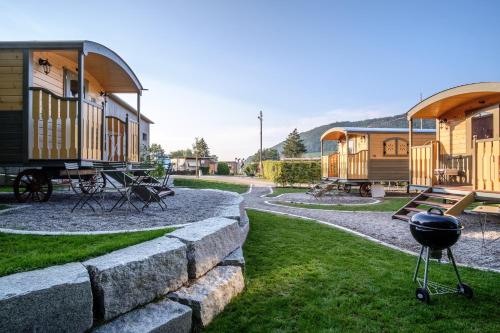 The park sits beside the River Rhine and offers many facilities including a swimming pool and a river-side bathing area, mini golf, playground, barbeque area and a small shop.
The circus wagons can be booked from late March until the end of October.
Location: Wagenhausen is just a two minute drive across the River Rhine from Stein am Rhein which is just 55 kilometres from Zurich.
> Click here for more info and to book
---
Once a prison, in 2018 Barabas Luzern was renovated (the cells were preserved in their original form) and reopened to become the first prison hotel in Switzerland. Located in the heart of Lucerne's Old Town, the property is ideal for those who seek comfortable, basic accommodation in a central location.

60 prison cells have been converted to dormitory-style accommodation with shared bathroom facilities and twin/double rooms with ensuite bathrooms.
The hotel has a community kitchen that guests can use, breakfast is available and The Nozomi restaurant serves Japanese cuisine. Other amenities include free WiFi, an elevator and a lounge with table games, a library and an inner courtyard.
Location: Barabas Hotel is located in Lucerne's Old Town. The city of Lucerne is 52 kilometres from Zurich and 112 kilometres from Bern.
> Click here for more info and to book
---
At Herznach, a former mine silo has been converted into a B&B that is suitable for both couples and families.
Each of the four rooms – two doubles and two family rooms – include a large private bathroom, flatscreen TV, free WiFi, and fan and offer picturesque views of the rural surroundings. All rooms are accessed via an internal spiral staircase.

Breakfast is included in the room rate and is served daily in the breakfast room. There's also a lounge with a coffee and tea bar, and a garden with a pond.
Location: Herznach is 48 kilometres from Solothurn, 48 kilometres from Zurich and 44 kilometres from Basel.
> Click here for more info and to book
---
This luxury 5 star wellness hotel may not be particularly unique but not many hotels can boast their own private mountain railway. Tschuggen Grand Hotel in Arosa, a popular skiing and hiking resort town in Graubünden canton, can do just that.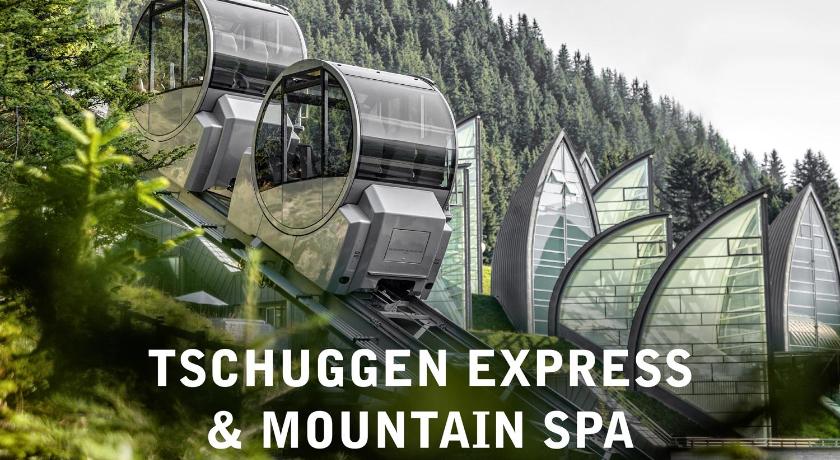 The hotel is well known for its wellness facilities, luxurious accommodation and spectacular views and it rightly deserves its place in The Leading Hotels of the World portfolio.
All 128 rooms have been furnished in a contemporary style with amenities such as private bathrooms with rainforest showers, free WiFi, Nespresso machine, flatscreen TV, and minibar. All offer views of either the surrounding mountains, forest or the architecturally designed sails of the Tschuggen Bergoase (the wellness centre).
Amongst the facilities at the hotel are the 5000 m2 spa and wellness centre, two swimming pools, four restaurants (two only open in winter), two lounges and a bar.
Buffet breakfast is included in all room rates, as is parking, use of the Tschuggen Bergoase, as well as travel on the Tschuggen Express, which transports hotel guests from the hotel to the hiking and winter sports area in just four minutes.
The hotel is open for two distinct seasons: summer (June – mid August) and winter (late November to early April).
Location: Arosa is situated 148 kilometres from Zurich and 269 kilometres from Bern.
> Click here for more info and to book
---
More unique places to stay in Switzerland
An igloo
If all of the options above are a little too cozy, why not stay the night in an Igloo?
There are Iglu-Dorf villages in Zermatt, Stockhorn, Kühtai, Gstaad, and Davos Klosters, as well as Zugspitze in Germany, where you can stay the night in a frozen masterpiece that takes some 3,000 hours to create each winter.
There are igloos for everyone, from simple dormitory-style igloos to romantic three-room suites that include a hot jacuzzi tub, private toilet, and good morning tea served to your sleeping bag. You can even get creative and build your own igloo with the help of an expert.
But if sleeping in a house of snow is just a little much for you, why not try a heated igloo-shaped tent instead?
Each igloo village is open from mid to late December to early to mid April, except Stockhorn which closes early March.
---
---
A tiny house gondola
Switzerland and gondolas (also called cable cars) go hand in hand so what could be better than spending the night in one?
Tiny House Gondel is a repurposed cable car cabin from the old Brunni railway and is currently perched on a rock needle in Brunni with spectacular views of the Engelberg mountain panorama.
In 2020 the gondola was located at Piz Nair and there are plans to move it to a new location in future years.
Fitted out with a double bed, small kitchen, storage space, and heating, overnight stays in the Tiny House Gondel are highly sought after.
---
Sleep on straw
For something a little out of the ordinary, a number of Swiss farms offer the chance to sleep on straw. Guests sleep on straw (BYO sleeping bag) in a barn and have access to a common room with kitchen and toilet facilities.
Breakfast (made from the farm's own produce) is usually included in the price and rates start from around CHF25 per person per night.
---
A monastery
If you prefer a solid roof over your head, why not follow in the footsteps of pilgrims from years gone past and spend the night in a monastery?
A number of working monasteries in Switzerland have opened their doors to visitors and these include the Benedictine Monasteries in Einsiedeln and Mustair.
The Mustair monastery dates back to 775 and is featured on the UNESCO World Cultural Heritage list, largely due to its magnificent frescoes and Carolingian architecture.
A nine-room guesthouse is open to travellers at Mustair who can choose which activities (if any) they wish to participate in.
---
A Mongolian Yurt or Tipi
Another unique experience is staying in a Mongolian Yurt high above Lake Geneva. Or relive your childhood by staying at one of Switzerland's Tipi villages.
On-site facilities are very basic (most sites offer a toilet, shower and a place to cook) but it's an experience you'll never forget.
---
A monument
Another out-of-the-ordinary accommodation option is to stay in a monument. In Switzerland, your choice includes everything from ancient wooden houses to a 200 year old castle.
There are currently around 20 monuments that can be rented for holiday stays and each has been restored in an effort to combine heritage preservation and tourism.
---
An alpine mountain hut
Those that love the outdoors will enjoy the opportunity to stay in one of Switzerland's alpine huts. More than 200 huts, with over 9,000 beds, are available for visitors to stay in across all of Switzerland's alpine regions.
They offer basic but comfortable accommodation and are popular with not only climbers and mountaineers but also families and nature lovers.
---
Planning a trip to Switzerland?

At Holidays to Switzerland we are passionate about sharing our love of Switzerland and helping you to plan the perfect trip. Read our guide to planning a trip to Switzerland to kick start your travel plans and join our free Switzerland Travel Planning group on Facebook to chat with other past and future travellers.

Want monthly news and podcast updates, helpful travel tips and special deals sent straight to your inbox? Subscribe to Holidays to Switzerland and we'll send you a bonus copy of our 10 Useful Things to Know Before You Visit Switzerland guide.

Final Thoughts
As you can see, Switzerland offers a wide range of unique places to stay. Why not include a night or two in one of these original properties in your Swiss itinerary?
Whether you are travelling as a couple, a family, or a group of friends, a stay at any of these properties will add a special element to your trip. And they'll give you something to talk about for years to come.
With so much variety and so many unique places to stay in Switzerland, is it any wonder that so many travellers are #inLOVEwithSWITZERLAND?
---
This article, which was originally published on Holidays to Europe, was written in conjunction with Switzerland Tourism but all words and opinions are my own.
Read more of our Switzerland accommodation guides here and click here to read our guide to planning a trip to Switzerland.