Situated in southern Switzerland, the mountain village of Zermatt is a classy Alpine resort with much to offer.
Zermatt is nestled at the foot of the majestic Matterhorn, which is considered by many to be one of the most beautiful mountains in the world. The Matterhorn sits handsomely astride the border between Italy and Switzerland and has a distinctive pyramidal peak that soars to 4,478 metres.
Zermatt tourism focuses heavily on the Matterhorn. The iconic mountain provides a whole host of things to do in Zermatt, from hiking and climbing to skiing and enjoying the fresh alpine atmosphere.
There are other attractions too – this car-free resort oozes character and boasts an array of boutique shops, swish hotels, welcoming restaurants, and a very buoyant après-ski scene.
The Alpine village certainly has plenty to offer, so let's find out more about what to do in Zermatt.
[This post may contain compensated links. Please see my disclosure policy for more information.]
Things to do in Zermatt
See the Matterhorn from Zermatt
The Matterhorn is not the highest peak in Switzerland, but its beauty and distinctive peak draws you in and leaves you awe-struck.
There are many vantage points from which to get a great view of the pyramid-shaped mountain in Zermatt but if you'd like to get even closer, you'll need to leave the village behind and take a mountain excursion.
Below is a quick summary of the options for the best Matterhorn views:
| | | | |
| --- | --- | --- | --- |
| Excursion to: | Transport | Operates | Tickets |
| Matterhorn Glacier Paradise | Cableway | Year round* | BUY NOW |
| Rothorn | Funicular/cableway | Year round* | BUY NOW |
| Gornergrat | Cogwheel train | Year round | BUY NOW |
*limited closures for maintenance may apply. See this post for more info.

Matterhorn Glacier Paradise
At 3,883 metres, the Matterhorn Glacier Paradise provides outstanding views of the southern side of the Matterhorn (you will also get to see the summit of the Breithorn – one of the Matterhorn's neighbours).
You will need to board a succession of cable cars to reach Matterhorn Glacier Paradise but the effort is well worth it. The views from the summit station at 3,883 metres above sea level are simply breathtaking.
As well as a 360-degree viewing platform, offering views of more than 38 mountain peaks over 4,000 metres, there's an ice palace, a cinema, a restaurant and opportunities for skiing, snow tubing and tobogganing.
You'll find more information about Matterhorn Glacier Paradise in this article.
> Click here to check prices and buy your Matterhorn Glacier Paradise ticket
---
Rothorn
Get your camera ready; you can capture another picture-perfect view of the Matterhorn from the prime vantage point of Unterrothorn, commonly known as Rothorn, Zermatt.
Take in the glorious views of the Matterhorn, grab a bite to eat in the restaurant or head off on an invigorating hike – this is the starting point for the Five Lakes Walk (more info below). Enjoy a picnic, hire a mountain cart or kick bike for a fun ride or make your way directly to the pistes and ski down.
As you can see, there's plenty to do at Rothorn.
Rothorn can be reached by cable car from the Sunnegga-Rothorn valley station in Zermatt.
> Click here to check prices and buy your ticket to Rothorn

Read more about visiting Rothorn here
---
Gornergrat
Another option for wonderful Matterhorn views, particularly if you're not fond of cable cars, is to take the train from the centre of Zermatt to Gornergrat.
The rack railway allows you to travel to 3,135 metres to the rocky ridge known as Gornergrat. The journey takes just over half an hour.
Here you will be rewarded with fine views of the Gorner Glacier and the Durfourspitze – which happens to be the second-highest peak in the Alps. You will also be able to take in the splendid views of Monte Rosa massif and, of course, the Matterhorn itself.
Gornergrat is home to a number of shops, a small chapel and a couple of viewing terraces where you can take in the panoramic vistas.
If you'd like to wake up to those incredible views, why not book a room and stay the night at the 3100 Kulmhotel Gornergrat? Click here to check current prices.
You can read more about the Gornergrat excursion in this article.
> Click here to check prices and buy your Gornergrat train ticket
Another fun – and unique – thing to do at Gornergrat is to 'meet the sheep'. Zermatt's black-nosed sheep are synonymous with the town and from June to September it is possible to 'meet the sheep'.
Previously an encounter with the sheep was mostly by chance but a new GPS tracker will guarantee your Meet the Sheep experience is successful.
The sheep, which graze in the Gornergrat area, are accompanied by a shepherdess who can tell visitors all about them in German, English or French – and you can even take a selfie with them!
Ask at the Zermatt Tourist Office for further details.
---
See the Matterhorn from the air
For a bird's eye view of the Matterhorn, why not take a helicopter tour of the majestic mountain? Trips last between approximately 20 and 40 minutes and will provide you with unforgettable views.
Your pilot will talk you through the journey and give you plenty of insightful information about the Matterhorn.
If you're after a James Bond-style experience, you could even go one further and try heliskiing. Zermatt is a prime location for this thrilling pastime; go off-piste with a guide and prepare for a rousing ride!
Those with nerves of steel may also contemplate a spot of tandem paragliding. Zermatt has a couple of centres offering this exhilarating experience.
Although it's not for the faint-hearted, it will provide you with unparalleled freedom and the chance to view the Matterhorn and spectacular mountain scenery in a unique and unforgettable way.
Popular paragliding options include:
---
Explore the village
Take a break from winter sports or summer hikes and enjoy a leisurely stroll around the charming village of Zermatt. This compact municipality features many houses that date back from the 16th and 17th centuries, as well as interesting features and monuments.
Many of Zermatt's traditional houses were built in a very unique style. Resembling barns, they are built on flat stone slabs balanced on stilts – a method used to keep out mice!
You can see numerous examples of these houses in the older part of the village, known as Hinterdorf.
Strolling along the main street, you can follow the 'Walk of Climb', nine bronze markers situated along the Bahnhofstrasse. Each is placed to commemorate the first brave climbers to take to the peaks of the Matterhorn in July 1865.
You can also pay your respects at the Mountain Guide's Memorial or the Mountaineers Cemetery.
Planning a trip to Switzerland?

At Holidays to Switzerland we are passionate about sharing our love of Switzerland and helping you to plan the perfect trip. Read our guide to planning a trip to Switzerland to kick start your travel plans and join our free Switzerland Travel Planning group on Facebook to chat with other past and future travellers.

Want monthly news and podcast updates, helpful travel tips and special deals sent straight to your inbox? Subscribe to Holidays to Switzerland and we'll send you a bonus copy of our 10 Useful Things to Know Before You Visit Switzerland guide.

At the Matterhorn Museum (Address: Kirchplatz) you can see the development of Zermatt from a small farming community into a world-class ski resort.
As well as displays of original houses, there's a multimedia room and a display honouring the record-breaking achievements of mountaineers on the Matterhorn and surrounding 4,000-metre peaks.
The shopping in Zermatt is pretty good, too. Expect to find everything from local souvenirs to sportswear and high-end brands.
Hungry and thirsty? Again, you won't be disappointed; there are cafes, bars, and hotel lounges should you need to take the weight off your feet and enjoy a beverage and snack.
While you're enjoying the crisp Alpine air, keep an eye open for the black nose sheep who like to graze in fields around the village.
If you're in town at 9am or 5pm during summer, you might see a herd of black-haired goats being led through the streets. From the start of July until the middle of August, the gletschergeissen (glacier goats) are paraded through the centre of the village.
Known as the Geissenkehr, the parade follows a tradition from times past when the goats were led to the meadows around Zermatt to graze before being returned to their barn in the evening for milking.
You'll definitely want to have your camera ready to record the cheeky goat's antics.
---
Zermatt Photo Shoot
Capture everlasting memories of your visit to Zermatt with a private photo shoot. A professional photographer will help you to choose the perfect location and will then capture your very own Insta-worthy photos.
The perfect souvenir of your visit, two-hour photo shoots are the ideal way to record a family vacation, romantic getaway or a trip with friends. HD images from the photo shoot will be sent to you within four days. > Click here to find out more.
---
Wellness Centres and Thermal Spas
If you prefer to leave the adrenalin-fuelled Zermatt activities to the thrill-seekers, you can try out a wellness centre or thermal spa instead. There are more than a dozen hotels in Zermatt with wellness centres and spas, many of which are open to the public.
Ease your muscles with an invigorating massage, take it easy in the sauna or steam room, or sink into a bubbly jacuzzi. Many of the centres and spas boast blissful relaxation areas where you can lose yourself.
For a totally blissful experience why not treat yourself to some pampering in the Day Spa at the Grand Hotel Zermatterhof? Book your admission below.
Forest Fun Park
Zermatt attractions are many and varied. If you head to the edge of the village, you will find the Forest Fun Park, a well-designed adventure park offering fun for kids and adults alike.
There are 95 obstacles and 31 zip lines set up to test your courage. Simply make your way through the trees; don't worry, you will be attached to a Swiss-made safety system for peace of mind!
There's a terrace furnished with deck chairs and a snack bar serving refreshments, so when you're through, take a seat and enjoy an ice-cream!
---
Go Hiking in Zermatt
Pull on your walking boots and grab your map of Zermatt's hiking trails. There are around 400 kilometres of trails for all levels of ability, so let's explore some of the best hikes in Zermatt.
The Five Lakes Walk
If you're after family-friendly hiking, Zermatt's popular Five Lakes Walk is a great option. This medium grade hike affords you awe-inspiring vistas of the Matterhorn and crystal clear alpine lakes.
As its name suggests, you will see five lakes on your journey from Blauherd to Sunnegga – the Leisee, Stellisee, Grünsee, Grindjisee, and Moosjisee.
Total distance: 9.8 kilometres / Time required: 2h:30
If you'd like the comfort of having an experienced guide alongside you, why not book a 5-hour guided hike along the Five Lakes Trail? > Click here to check details and prices.
---
Riffelsee Lake Trail
You can also enjoy magnificent views of the Matterhorn as you walk the easy Riffelsee Lake Trail.
To start the hike, disembark the Gornergrat train at Rotenboden (preferably after having visited Gornergrat) and then walk to Riffelsee to check out the reflection of the Matterhorn on the surface.
After admiring the Matterhorn's mirror image, continue walking down to Riffelberg where you can rejoin the train for the journey back to Zermatt.
Total distance: 3 kilometres / Time required: 1 hour
---
Randa Suspension Bridge
If you're willing to travel a little further from Zermatt, you could take the train (approximately 17 minutes) to Randa and begin your hike from there.
The circular hike is a medium-level walk that will take you through larchwood forests and on to the Charles Kuonen Suspension Bridge – the longest pedestrian suspension bridge in the world.
The bridge is almost 500 metres long and takes around ten minutes to cross.  At its highest point it is 85 metres above the valley below – and definitely not for those who have a fear of heights!
Distance: 8.6 kilometres / Time required: 4 hours
---
Ski Zermatt
Zermatt's history as a ski resort goes back to 1928 and the opportunities for snowboarding and skiing in Zermatt today are nothing short of amazing.
There are countless pistes – 360 kilometres in fact – framed by towering mountains. The Matterhorn itself provides 4,000 metres of altitude and boasts the impressive accolade of being the highest winter sports area in the Alps.
The ski area is shared with Cervinia in Italy so why not start your day traversing the slopes in Switzerland and then nip into Italy for a light lunch before returning?
Skiing holidays in Zermatt aren't limited to the winter only; during the summer, you can just keep skiing and snowboarding!
The Theodul Glacier offers 21 kilometres of skiing (choose from the many blue and red runs), and there's a park offering thrills and spills – with its rails and half-pipes providing ample fun.
> Click here to check prices for a 3 hour private ski lesson
---
Witness a golden Matterhorn sunrise
It may be recognisable from its links with the popular chocolate bar Toblerone, but the Matterhorn should also be celebrated for its astounding sunrise. You will need to be up early and make your way to one of the vantage points if you don't have a hotel room with a view – but the effort is worth it.
Witness the rays of the sun slowly light up the mountain, and marvel at the beautiful colours as they change in the early morning light.
On Saturdays during July, August and September you can take a special pre-sunrise cable car to Blauherd and then walk to Stellisee to enjoy reflections in the lake of the sun rising over the Matterhorn. Breakfast at a mountain restaurant is also included.
This excursion is operated by Zermatt Cable Cars – more info here.
> Find your Zermatt hotel with Matterhorn views here
---
Spend Christmas in Zermatt
There's an abundance of things to do in Zermatt in winter, and Christmas in Zermatt is best described as enchanting.
The skiing remains as fabulous as you would expect during the winter season, and visitors can snuggle down as they take a ride through the snowy landscape in a horse-drawn carriage.
Whilst there's no Zermatt Christmas market, the village holds a number of events during the festive season including concerts and an official ceremony to celebrate the lighting of the village's Christmas tree.
Of course you can visit a traditional pub or enjoy a swanky cocktail in one of the smart bars – Christmas is a time for celebration after all!
If you want to experience winter in all its glory, we suggest you stay at the Igloo village, Zermatt.
Spend a night at Iglu dorf Zermatt and stay in your very own house of ice, visit the on-site igloo bar, take a dip in your whirlpool, and revel in the up close and personal views of the Matterhorn.
---
Where is Zermatt
Zermatt is located in southern Switzerland in the Canton of Valais.
---
How to get to Zermatt
Zermatt has a 'car-free' status, meaning all visitors must arrive by train. Zermatt is serviced by regular trains from all over Switzerland, including the famous panoramic train, the Glacier Express.
Read more about the Glacier Express in this article.
If you are travelling by car in Switzerland, you'll need to leave your car at a designated car park in the village of Tasch. The are numerous car parks, including one right beside the train station. Parking costs CHF 16 per 24 hours.
From Tasch, there's a shuttle train service to Zermatt which operates every 20 minutes with a journey time of 12 minutes. Tickets cost around CHF 17 return per adult.
Most hotels in Zermatt provide transport from the Zermatt train station in their electric buses. If your accommodation doesn't provide transfers, there's a taxi stop (electric taxis) outside the station.
If you are coming to Zermatt from Zurich, be sure to read this guide where we cover in detailed the various transport options that are available.
---
Where to stay in Zermatt
Hotels in Zermatt
With hotels featuring facilities and rates to suit all travellers, choosing your hotel in Zermatt is not easy. We've listed a range of top-rated hotels below to help you pick the ideal hotel for your stay.
One of just three 5-star hotels in Zermatt, Grandhotel Zermatterhof offers a truly luxurious stay and is regarded as one of the best hotels in Zermatt.

Opened in 1879, this traditional hotel is located in the heart of the village and features three restaurants, two bars and a spa area with pool, sauna and treatments.
A free shuttle service from the train station – either by electric taxi or horse-drawn carriage – is provided for all guests.
> Click here to check current prices at Grandhotel Zermatterhof
---
Just 200 metres from the station, the 4* Mirabeau Hotel offers superbly appointed rooms with all modern facilities.

Some rooms feature their own private balcony with Matterhorn views.
As well as a restaurant, bar and cafe, the hotel also has a wellness centre with swimming pool, sauna and steam baths.
> Click here to check current prices at Le Mirabeau Hotel and Spa
---
The 4* Unique Hotel Post is located in the centre of Zermatt and just a five minute walk from the station.

Rooms are tastefully appointed with wooden furniture and some have Matterhorn views.
The hotel's facilities include free WiFi, free shuttle transfers, a restaurant and bar and a small spa area.
> Click here to check current prices at Unique Hotel Post
---
Just 600 metres from the village centre, the 4* Romantik Julen Hotel boasts plenty of features including a 3-storey wellness centre.

The cosy rooms feature traditional furnishings with modern fittings and all rooms have a private balcony.
There's a restaurant, bar and a tavern serving local wines.
> Click here to check current prices at Julen Hotel
---
With a great location next to Zermatt's underground funicular to the Sunnegga Ski Area, and just 400 metres from the village centre, the 4* Christiana Mountain Spa Resort is a real contender for best hotel in Zermatt.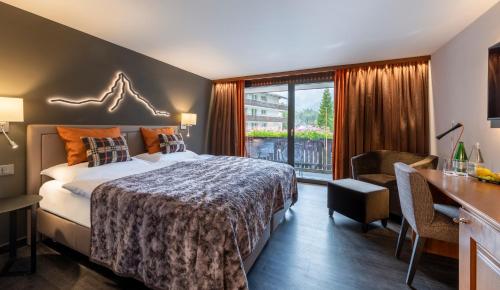 Well-appointed, modern rooms (some offer Matterhorn views) are a feature of the hotel which also has a restaurant, bar, fitness centre and spa area with a 25-metre pool.
> Click here to check current prices at Christiana Mountain Spa Resort
---
Each of the beautifully furnished rooms at the 4* Hotel Sonne has a private balcony.

The hotel is situated in a quiet location just 600 metres from the centre and guests can make use of the restaurant, bar, two swimming pools, hot tub and wellness area.
> Click here to check current prices at Hotel Sonne Zermatt
---
The 3-star, family run Hotel Bristol offers simple but comfortable rooms, many of which have Matterhorn views.

In a quiet location 600 metres from the village centre, the hotel features a restaurant, bar, wellness centre and playroom.
Shuttle transfers from the station are available free of charge.
> Click here to check current prices at Hotel Bristol
---
More accommodation in Zermatt
Still looking for a place to stay in Zermatt? Read our detailed guide to the best hotels in Zermatt here.
If you'd prefer more space and would like to stay in an apartment/Airbnb, Zermatt has plenty of excellent options. We cover 10 stunning apartments in Zermatt in this guide and share our top picks for best hotels in Zermatt here.
For even more choices, you can > click here to search for apartments and chalets in Zermatt.
---
Final Thoughts
Now that you know about all the wonderful things to do in Zermatt, it's time to pack your bags and visit!
Whether you plan to go skiing in Zermatt, relax in a thermal spa, stroll the streets of the village or escape to the mountains for hiking and superb views of the Matterhorn, Zermatt offers it all – and more.
I really hope you've found this guide useful and that your visit will include many of the above mentioned things to do. Zermatt really is the ideal alpine destination and a must-visit for anyone heading to Switzerland.
Find more helpful info about Zermatt in our Zermatt Travel Guide.
---
Listen to our Zermatt podcast episode
---
PIN FOR LATER
---
SWITZERLAND TRAVEL ESSENTIALS